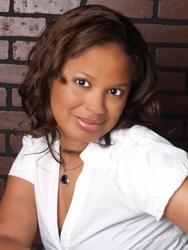 First, I want people to enjoy the story, that's why I write fiction
Somerset, NJ (PRWEB) April 10, 2009
Generational curses are destructive patterns of behavior that are passed down through families for generations. Millions of people are miserable living a life that has been passed down to them by well-intentioned, but ill-informed family members. Freelance writer and media host, Toyi Ward tackles this topic in her debut novel, Par for the Curse (Naphtali Books, 2009). Ward says, "Get rid of that stuff and don't recycle it."
Beginning May 16, Toyi Ward will begin a national tour to help readers rid their lives of destructive patterns of behavior. Currently planned stops include: Boston, New York, Baltimore, Cleveland, Cincinnati, Dallas, Lexington, KY, Chicago, and Los Angeles. "First, I want people to enjoy the story, that's why I write fiction," Ward says with a double wink.
"Then I want the reader to identify their own baggage and toss it out…not to be recycled."
Toyi Ward is a freelance writer and the host of "Toyi Talk-Authenticity with Attitude" which airs on the Blog Talk Radio Network each week. Her keen insight into life's success strategies have appeared in the The Glass Hammer, MSN Lifestyle, Your Business Channel, Recognize Magazine, Working Mother Magazine, The Cincinnati Enquirer and many more.
Read more on Toyi Ward's Newsroom
Hear Toyi Ward on "Authenticity with Attitude" at http://www.blogtalkradio.com/toyi-talk
For Media or Book Club Inquiries:
Naphtali Books
Robin Thomas
Director, Public Relations
908-967-2674
Robin.Thomas(at)naphtalibooks.com
Or go to http://www.toyiward.com/events
###