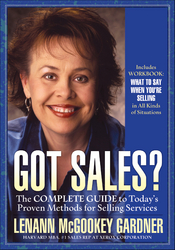 Selling is not a battle. If you make it adversarial, you're going to lose. Successful selling starts with a real concern for people and helping them to get into better circumstances now
Albuquerque, NM (Vocus) April 9, 2009
Selling with heart gets results – and you can still respect yourself in the morning, according to international sales and marketing consultant Lenann McGookey Gardner on the inspirational Legends in Excellence CD, authored, produced, and directed by Annie Armen.
"Selling is not a battle. If you make it adversarial, you're going to lose. Successful selling starts with a real concern for people and helping them to get into better circumstances now," said Gardner.
Gardner is included along with renowned business leaders Zig Ziglar, Dr. Denis Waitely, Stephen M.R. Covey, and Dr. Ivan Misner in a compilation of the most inspiring, motivational and empowering interviews conducted on the Annie "The Hurricane" Armen LIVE Talk Radio program.
Some highlights of Lenann McGookey Gardner's advice on the Legends in Excellence CD include:
Begin With the Ego of Your Prospect
"Always remember that when offering our professional services, we need to be aware of the ego of our prospect. We're asking them to admit that they haven't been able to solve their problem themselves, and to hire us because we can solve it. That's ego deflating! One of the most effective approaches for successful selling is not to talk about ourselves or our services or products at all, but rather to inquire about the person who may become a buyer, and listen for that person's pain – that is, their top of mind trouble today, or in the recent past, and inquire about that."
Listen for Pain
"To really understand how the world looks to the other person, stay focused on listening in-depth and letting the person know that they've been heard. Ask powerful, meaty questions about the pain you discover they have. Look for emotionally loaded phrases, and when you hear them, notice what they've said, the pain that it reveals, and use the same language to encourage your prospect to go deeper into the problem, and possible solutions."
90-10-90 Rule
"We talk too darn much. The fact is, the most effective selling is done by people who don't talk so much. The 90-10-90 Rule says that ideally, when you're talking with a prospect, that prospect is speaking 90% of the time. We salespeople are speaking 10% of the time, and we spend 90% of that 10% asking questions. The ideal scenario always involves the prospect speaking most of the time when you're selling."
See from the Prospect's Point Of View
"In a world in which sellers are viewed as being manipulators with very little integrity, it's really important that prospects not feel as if they're being ganged up on. Avoid using the word 'we' to refer to yourself and your colleagues at your own firm. When you're in the sales conversation, use 'we' to refer to 'you and me, Mr. or Ms. Prospect.' You're saying, 'I'm looking at this with you, we're in an inquiry together to discover what might be the best thing to do next.'"
Four Behaviors that Build Trust
"No one will buy from us if they don't trust us. Four elements of trust must be present: Credibility – your background, track record, experience, and education should fit the task. Reliability – the repeated experience of expectations met. Intimacy – your willingness to let the conversation go beyond traditional bounds. A Clean Heart Position, which is the opposite of self-orientation – is also key; it involves holding the sincere desire for that prospect to get where he or she wants to go, whether or not they purchase from you."
Gardner also relates with passion how she and her then-18-year-old daughter participated in a firewalk experience, and the importance of focus and a positive attitude taken from that experience to any undertaking.
Radio host and producer Annie Armen edited down hundreds of hours of interviews to 15 hours of conversation and advice in the Legends in Excellence MP3 CD, available from Think TQ, Inc. It provides hope, inspiration, motivation, and answers on wealth creation, health, success and the intentional pursuit of excellence.
Lenann McGookey Gardner, a Harvard MBA and a past #1 worldwide sales rep at Xerox, offers keynote speeches on state-of-the-art selling and closing skills, executive and sales coaching for business success, and workshops. Her book Got Sales? The Complete Guide to Today's Proven Methods for Selling Services is the one guidebook highlighting all the latest research and data on what's working now in contemporary selling. More information is available at http://www.YouCanSell.com .
###