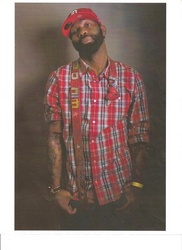 DDG is serious about lifestyle. Their clients love it
Wilmington, DE (PRWEB) April 10, 2009
El Nino engages investment group for Dead Denim DDG worldwide expansion. After spending a day of exhausting meetings, El Nino and Newdy Felton founders of Dead Denim Gear convinced private investor Fida Al Sulaibi to take clothing line international.
The company's approach is boutique, but will also continue to grow through high end specialty stores to service exclusive. The expansion into Dubai with a prominent diamond dealer, Dead Denim Gear feels that it will have its first multi-million dollar year.
According to El Nino the founder and designer, "DDG is a lifestyle. I have been designing clothes for people who want to spend $1,600 on a limited edition jacket or blazer...$185 for a T-shirt." DDG got its deal after a series of not interested failed introductions. Entrepreneur Al Sulaibi a Dubai, United Emirates native sat in the meetings because of interest in introducing El Ninos designs to a Dubai based diamond Jeweler.
Each celebrity invited to an event or to be a client of DDG will receive a gift from the exclusive El Nino Line and will get a box of DDG embedded in roses. Allison is one of the hottest brazilian models to hit America," says Allen Mark, Casting Director of Eye Candy Models New York. Stars Confidential;s spokes models like Lacie Mangini will work closely with Mark on International campaigns each month.
DDG got their deal after they meeting with Donnie Klang at Bice Restaurant. DDG and Stars Confidential executive Richard Mahee, Felton has plans to do a series of lifestyle events around the MTV star and this summer.
The first event is for DDG and Stars Confidential Clients. It will be Held at the Waldorf Astoria Towers in New York City. "DDG is serious about lifestyle. Their clients love it," says, Richard Victor Mahee of Stars Confidential. DDG will start its campaigns through Matthew Bieri, Life of the Party lifestyle events alongside Lenzie and Dustin Davis of Xcess. Events will be hosted by Ashley Constantini at Zoo Lounge. Felton picked Lacie Mangini over a handful of young celebrities because he felt she fit well into DDG.
###