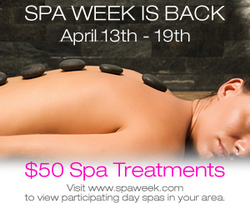 As always, the goal of Spa Week is to introduce a new generation of consumers to the benefits of a healthy lifestyle and to open up the spa industry to the masses
New York, NY (PRWEB) April 13, 2009
Spa Week is stepping up and doing something for its consumers as millions of Americans are experiencing the financial challenges of an uncertain future. A Promotional Event called Spa Week can be found on the Company's website, spaweek.com and it encourages people to indulge in the Spa Lifestyle for only $50. So, it goes without saying that stress has become an everyday companion for many of us. This is unfortunately the start of a cycle where the average consumer cuts back on many of life's necessities. Never before has Spa Week's message been more relevant than in these trying times -- the spa lifestyle is not only essential to maintaining one's health and well-being, but it's now available and affordable to everyone.
The 10th edition of the Spa Week Event will be taking place April 13-19, 2009 in over 700 spas across North America including markets such as, Arizona, Atlanta, Austin, Baltimore, Boston, Chicago, D.C., Dallas, Denver, Detroit, Florida, Long Island, Los Angeles, Minnesota, New Jersey, New York, North Carolina, Philadelphia, Pittsburgh, San Antonio, San Diego, San Francisco, Seattle and Toronto, Canada, and will once again be offering its signature $50 full service spa treatments. A list of participating spas will be posted on http://www.spaweek.com.
Since its inception, Spa Week has been devoted to offering the consumer more for less, and the Company continues to make this its primary goal. In today's struggling economy, people are understandably hesitant to splurge on expensive and unfamiliar treatments, so Spa Week is the perfect way to enjoy the best that spas have to offer without having to break the bank.
The Spa Week Events, taking place each year in the Spring and Fall, are known for offering even the most luxurious of spa treatments, ones that were at one time only available to the rich and famous. Elite services, such as the Ten Hands Massage (which is simultaneously performed by five therapists), the 14 Carat Gold Facial, and the Caviar Facial, all normally costing hundreds of dollars, have been offered during the Event at the $50 price point. Also accessible for only $50 each are medical treatments like Botox injections, Diamond-tip Microdermabrasion, and Chemical Peels. The idea is to afford everyone the ability to experience even these typically pricey procedures and the amazing benefits the spa lifestyle can bring. At Spa Week, it's all about helping you to feel good on the inside and look good on the outside. To view a complete listing of spa services being offered for the April Spa Week Event, log onto http://www.spaweek.com
"As always, the goal of Spa Week is to introduce a new generation of consumers to the benefits of a healthy lifestyle and to open up the spa industry to the masses," says Spa Week Founder, Cheryl Reid. Spa Week's goal is to make wellness more than just a word, but to make it a reality. By educating consumers to the health benefits of the spa lifestyle, Spa Week is taking a leadership role in the campaign to change the unhealthy course the country is navigating.
Spa Week was created and founded by Cheryl Reid, who hails from successful careers within the luxury spa industry and publishing spheres. For 2009, Spa Week is proud and excited to announce the inclusion of jane iredale The Skincare Makeup as its Title Sponsor and Allure Magazine as its exclusive National Media Sponsor.
For more information, visit http://www.spaweek.com or call Lindsey at (212) 352-8098
Lindsey @ spaweekmedia.com
###