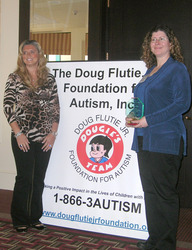 Her leadership in growing the number of well-trained teachers, counselors, and other therapists in New England has transformed the landscape for people in need of these essential services
Keene, NH (Vocus) April 14, 2009
To honor her commitment and dedication to the autism spectrum disorders (ASD) field, Antioch University New England'sShelley Viles, was presented with the Doug Flutie, Jr. Award on April 7. Shelley, a parent of a teen with Asperger's Syndrome, is the founding director of the Autism Spectrum Disorders training (Certificate)Program at Antioch New England. Laurie Flutie, co-founder of the Doug Flutie, Jr. Foundation for Autism, announced the award at the Children Making Strides 2009 Autism Update Conference this week.
"We are honored to present our annual Doug Flutie, Jr. Award to Shelley," noted Lisa Borges, executive director of the foundation. "Shelley is passionate, dedicated, and we hope she continues to inspire others through her wonderful work in the autism community." The Flutie Foundation presents the award yearly to a person who has shown great commitment and dedication to raising awareness of autism spectrum disorders (ASD), or who has made a significant impact in the lives of individuals with autism.
According to Katherine Clarke, professor and chair of ANE's Department of Applied Psychology, Shelley's great strength is to bring together leaders with diverse approaches to working with people on the autism spectrum, with professionals who are hungry to learn. "Her leadership in growing the number of well-trained teachers, counselors, and other therapists in New England has transformed the landscape for people in need of these essential services," said Katherine.
About the Doug Flutie, Jr. Foundation for Autism, Inc.
The Doug Flutie, Jr. Foundation for Autism, Inc. was established in 1998 by Doug Flutie and his wife, Laurie, in honor of their seventeen-year-old son, Doug, Jr. who was diagnosed with autism at the age of three. The foundation provides support for financially disadvantaged families who need assistance in caring for their children with autism through educational services and equipment. The foundation also funds research and education into the causes and consequences of childhood autism and serves as a communications center for new programs and services developed for children with autism. The Doug Flutie, Jr. Award is presented each year at the foundation's Autism Update Conference to honor excellence, commitment, and dedication in the ASD field. The award recipient can be a parent, teacher, advocate, individual with autism spectrum disorder or anyone else who has made a significant difference in the autism community.
About Shelley Viles
Shelley came to the field of autism spectrum disorders as a parent who experienced first-hand the struggles to obtain a correct diagnosis and treatment for her child. In 2005, Shelley founded the Autism Spectrum Disorders Training (Certificate) Program at Antioch University New England where she now serves as director.
At Antioch New England, Shelley is now working to develop a certificate program in Applied Behavior Analysis. Pending approval, this new program will launch in the summer of 2010. The Applied Behavior Analysis Certificate Program will meet the educational requirements for graduates to become a Board Certified Behavior Analysts.
An active volunteer in the ASD community, Shelley serves on the board of directors for the Asperger's Association of New England and is the New Hampshire chapter director. In addition she serves on the New Hampshire Autism Council Subcommittee on Education. In the past, she has been a parent support group leader, a volunteer advocate, and a founding member of the Summer Camp Inclusion Project, which increased recreational opportunities for children with disabilities. She has organized numerous conferences and training workshops on ASD topics for both the New Hampshire Chapter of the Asperger's Association of New England and for Antioch New England, her employer since 1991.
She lives in Keene, New Hampshire with her husband Paul and two children, Sarah and Paul.
About Antioch New England's Autism Spectrum Disorders Certificate Program
Through the twelve credit Autism Spectrum Disorders Training (Certificate) Program and a variety of continuing education workshops and courses, Antioch New England provides essential training to those interested in better serving individuals on the autism spectrum. Currently practicing counselors, psychologists, educators, special educators, speech-language pathologists, occupational therapists, tutors, parents and advocates benefit from this specialized training.
Faculty members include national presenters, published authors, and attentive, expert faculty who strive to make a difference. The program accommodates working professionals; students come to class only one weekend every three to four weeks. Students have the option of simultaneously pursuing a MEd in Foundations of Education with a concentration in Autism Spectrum Disorders or pursue a master's in clinical mental health counseling.
About Children Making Strides
Children Making Strides (CMS) is a support organization that provides resources so parents in the autism community can exchange ideas, get information, and provide support to each other.
About Antioch University New England
This is Antioch University New England's forty-fifth year as an institution of higher education. Based in Keene, New Hampshire, ANE offers rigorous, practice-oriented, values-based master's, doctoral, and certificate programs to more than one thousand students. Degrees in education, leadership and management, environmental studies, and psychology reflect a dedication to activism, social justice, community service, and sustainability.
About Antioch University
Antioch University is a five-campus university located in four states. Each campus has its own distinct academic programs, community life, and regional or national identity. Antioch University is founded on principles of rigorous liberal arts education, innovative experiential learning, and socially engaged citizenship. The multiple campuses of the University nurture in their students the knowledge, skills, and habits of reflection to excel as lifelong learners, democratic leaders, and global citizens who live lives of meaning and purpose.
###