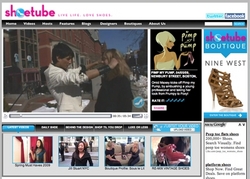 Boston, MA (PRWEB) April 13, 2009
Want a new look for '09? Well, the style site http://www.shoetube.tv has taken a step into the spotlight with a brand new look.
The popular web-channel has a new design, added a series of new fashion Video segments and has an all new approach to reaching the highly coveted audience of women - who love shoes!
New on Shoetube.tv
Trend tracker
Shoetube.tv debuts Trend Tracker a weekly segment covering the latest styles and the season's must haves, with expert advice from industry insiders who give top notch style tips on what to wear and most importantly, the perfect shoe to pair it with.
Pimp my Pump
The highly anticipated Pimp My Pump is an ambush makeover segment, following top stylist and shoetube's own, Omid Maxi as he gives unsuspecting women a style makeover from the pump on up. From young professionals to desperate housewives, Omid gives style hungry women a fabulous new look they can call their very own.
"According to industry experts, shoes are really a women's most important accessory, more so than ever before and it's not just about the brand, but about the whole look. Trend Tracker and Pimp My Pump will not only follow the latest trends, but show you how to pull the look off", said Michelle Weber, Editorial Director and Producer of shoetube.tv.
Footnotes with Dr. Dee
Footnotes with Dr. Dee is just a click away and answers the questions every foot fashionista wants to know. Although she's a podiatrist, she won't steer you away from a hot stiletto, but she will give helpful hints on how to wear them and what to look for to safely indulge in that pedicure afterwards, after all, it is sandal season.
About Shoetube
Shoetube.tv is the first (and only) online editorial video channel and social community connecting women all across the Internet through their passion for shoes. Shoetube.tv features a unique blend of fun and fresh original video programs and blogs from across the country and across the globe, including Paris, Milan, London, Berlin and coming soon, Brazil. New blog topics include, everything from Celeb Obsessed and Fab Finds to Ebay Addicted and Fit to Wear. With all the latest fashion news, shoetube.tv is the one-stop online destination for shoe-obsessed women to watch, share and via its partners, shop.
Shoetube.tv extends its reach well beyond its home site, and can be found on Youtube, Twitter, facebook and elsewhere. To get a sense of is the shoetube audience is, recent reports show that 88% of shoetube's facebook fans are women with almost half (47%) women between the ages of 25 and 34.
About Powderhouse
Powderhouse is an award-winning, creative television and new media company based in Somerville, MA. The company's original series have aired on The Discovery Channel, The History Channel, National Geographic Channel, TLC, and Tech TV and in more than 200 countries. Powderhouse is becoming a leader in multi-platform 360 video production: from TV to the web to mobile phone content Powerhouse's work has been recognized with numerous national and international awards, including a prime time Emmy nomination. Currently Powderhouse is taking storytelling to the Web. For more information, please visit http://www.powderhouse.net
For more information on Shoetube.tv visit http://www.shoetube.tv or call:
Kelly Rostad at 978-317-7119
###