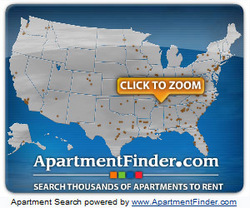 Charleston, SC (PRWEB) April 11, 2009
Using a new search feature to help its customers locate ideal apartments in various communities, Apartment Finder presents its new affordable housing search via a faceted browsing application at http://www.apartmentfinder.com/.
This tool lets customers specifically search for affordable housing options in neighborhoods and communities across the country.
Many people need affordable housing. The economic expansion of the 1990s obscured certain trends and statistics that point to an increased, not decreased, need for affordable housing. The generally accepted definition of affordability is for a household to pay no more than 30 percent of its annual income on housing. Families who pay more than 30 percent of their income for housing are considered cost burdened and may have difficulty affording necessities such as food, clothing, transportation and medical care.
Once again, Apartment Finder is using an innovative approach to help its customers secure ideal apartments. Apartment Finder leads the way in user-friendly search tools.
It's a simple method that works well and provides tremendous assistance. Apartment Finder has made it even easier for shoppers to identify income-restricted communities, helping to narrow their searches to better match their targeted market.
An estimated 12 million renter and homeowner households now pay more then 50 percent of their annual incomes for housing, and a family with one full-time worker earning the minimum wage cannot afford the local fair-market rent for a two-bedroom apartment anywhere in the United States. The lack of affordable housing is a significant hardship for low-income households preventing them from meeting their other basic needs, such as nutrition and healthcare, or saving for their future and that of their families.
The affordable housing search tool ensures highly qualified leads that meet specific criteria, attracting focused traffic and potential customers. The new affordable housing search tool markets your affordable housing community on the only Web site that includes both a highly-visible faceted browsing feature as well as a standard property income grid making it easy for the shopper to understand your income criteria.
###