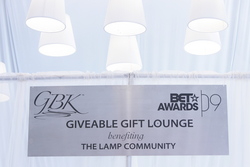 Los Angeles, CA (PRWEB) April 11, 2009
GBK (gbkproductions.com), the luxury lifestyle gift lounge and special events company, will partner with the Gay & Lesbian Alliance Against Defamation (GLAAD) to honor the 20TH Annual GLAAD Media Award Nominees and Presenters with an exclusive backstage "Thank You Lounge" for their work to promote fair, accurate and inclusive images of the gay, lesbian, bisexual and transgender (LGBT) community in the media. The Los Angeles ceremony will be held at the Nokia Theatre L.A. Live on Saturday, April 18, 2009. GBK will donate a portion of the proceeds from the lounge to GLAAD, as well as donating a luxury gift bag to be auctioned off by the organization.
Those celebrities and VIPs that choose to participate in the GLAAD/GBK Thank You Lounge will be treated to a myriad of great products and services. FADED FOOL is launching their latest T-shirt line; REVITALASH will be on hand with eyelash conditioner that lengthens and thickens eye lashes, as well as their new hair product called HAIR BY REVITALASH which is conditioner that gives thicker and fuller hair. Dr. Gabriel Chiu's BEVERLY HILLS PLASTIC SURGERY INC. will gift a year of Microdermabrasion Facials, as well as Botox and Restylane for some of the lucky guests. To keep skin looking good, attending celebrities and VIPs will also receive APRIL RAIN hydrating crème. JOICO will give their Designer Collection of hair care products and FOREVER LILY will be launching their beautifully-designed, brand new, high-end perfume. Health-conscious guests will also enjoy ENVIRONNE, an amazing fruit and vegetable wash, designed to remove pesticides, oils and dirt and ENVIROSAX, fashionable, eco-friendly, reusable shopping bags. As a special indulgence BODEGA CHOCOLATES will be there with many sweet treats. Many celebrities in the past went crazy for the Quartz Stones from ROCK OUR WORLD, so they are returning to this Lounge and offering their Rose Quartz Love Alters. Also EGYPTIAN RED will be on hand with newest candles. Gay-Friendly travel company SPIRIT JOURNEY will be offering 4-5 day regenerating retreats to awaken ones senses and spirituality. In addition, visitors to the lounge will receive an eco friendly, reusable gift bag by ENVIROSAX and some of the products inside will include: a Membership to LACMA, VIP Experiences to an LA DODGER GAME, P-Mate, and ALTOIDS, the brand's new tiny breath mints that go where you go.
About GLAAD

The Gay & Lesbian Alliance Against Defamation (GLAAD) is dedicated to promoting and ensuring fair, accurate and inclusive representation of people and events in the media as a means of eliminating homophobia and discrimination based on gender identity and sexual orientation. For more information, please visit http://www.glaad.org.
About GBK
GBK, formerly GBK Productions, is a luxury lifestyle gifting and special events company, specializing in entertainment marketing integration. Formed in 2000 by Gavin B. Keilly, the company's Founder and CEO, GBK consists of five divisions: GBK Celebrity Gifting Lounges; GBK Events; GBK Weddings; GBK Charitable Consulting; and GBK Marketing/PR. Widely known in the entertainment industry for bringing that little extra something into the Gifting Lounge environment, GBK offers its clients a full range of marketing services.
For more information on Gavin B. Keilly or GBK, please go to gbkproductions.com.
# # #