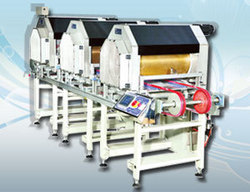 Quality of Taiwan's machinery has always been above standard; at the same time, we offer friendlier prices
Hampden Sydney, VA (PRWEB) April 11, 2009
As the leader of ceramic machinery in Taiwan, Triple Sonic Enterprise has been providing their outstanding machine series to facilitate clients worldwide since 1975. Emphasis on technical expertise and comprehensive assistance including consultation support and after-sale service are crucial factors that positioned Triple Sonic prior on the list. In the coming season, Triple Sonic is to launch the latest ceramic machine model and reach out to a wider market.
-State-of-the-Art Roller Printing System
"Silicon cylinder is the mainstream in ceramic printing machine now; ceramic printing system using such cylinders will be the focus of innovation in the following decades," said Andy Li, vice president of Triple Sonic Enterprise. Unlike traditional ceramic printing method, adopting silicon ceramic cylinder can present far more intricate patterns and create a smoother appearance. Keeping abreast of the ceramic industry, Triple Sonic cooperated with Industrial Technology Research Institute of Taiwan (ITRI) in developing roller printing machine series. Incorporating professional advice from ITRI in terms of dynamics and electricity, Triple Sonic's Ro-Flex printing system is of outstanding stability and consistent performance. Consisting of master series, standard series, and economic series, the mechanical design of Ro-Flex system aims to meet comprehensive applications from basic tile printing to delicate higher-end tile printing.
Among the variety, SD-410 has always been the best-selling model for its flexibility and stable performance. Synchronization running of transfer belt and four printing tubes leads to a constant running speed and position accuracy. SD-410 can reach a maximum printing area of 720x620mm and a printing speed of 5~60 meters per minute. For printing upper-end tiles, the master series will be an ideal choice. Master Ro-Flex printing system is equipped with four rollers of different diameters; along with an adjustable scraper angle, complicated patterns can be achieved with a maximum printing area of 1440x720 mm. Applying an industrial pump further ensures a smooth operation. Both the master and standard series can achieve position accuracy of ± 0.1mm and printing precision adjustable from 0.5mm to 0.1mm. Under proper conditions, Ro-Flex printing system can even reach to HD precision. Available silicon cylinder sizes are 230mm, 400mm, 460mm, and 465mm, which can be selected upon demand.
-Diverse Ceramic Machine Line and Latest Dry-Flex Printing System
Other than Ro-Flex printing system, Triple Sonic offers a wide range of machine line ranging from high efficiency refining ball mill, tile suction machine, multiple glazer and waterfall glazing machine to the latest series of Dry-Flex printing system. Designed to process a finer glaze suitable for silicon ceramic cylinder, the high efficiency refining ball mill developed by Triple Sonic Enterprise adopts a module-centered design that enables efficient and speedy glaze grinding up to 325 meshes, available in 65 liter or 150 liter type. The automated cyclic operation and circulatory water cooling system are ideal for glaze refining and storage. Triple Sonic places considerable focus to ceramic industry automation as well. In order to speed up the manufacturing process and lower unnecessary labor costs, PK-1400 suction machine for tile load / unload is introduced. Applying vacuum suction principle and silicon suckers, PK-1400 is able to load and upload tiles of all sizes with no adjusting needs. Limit switches and photoelectric sensor allow automatic tile sorting, increasing working efficiency and flexibility.
The comprehensive machine range also includes the multiple glazer and waterfall glazing machine. Adjustable angles and aperture of nozzles enable multiple glazer to apply even glaze onto a rough surface. As for waterfall glazing, it is a cost-effective choice to replace traditional glazing methods. Using the waterfall glazing machine, a thin and even layer of glaze will be spread upon the tile surface, creating a smooth surface that can further assist printing results. Since the antique tile market has always been a thriving one, Triple Sonic has recently introduced their newest series. The latest product, Dry-Flex printing system, is especially suitable for printing rustic tiles and antique tiles. Combined with powder feeding system, Dry-Flex printing system can create distinctive texture upon rough surfaces that roller printing machine cannot, assisting clients to reach a wider product range. The machine list for different ceramic applications can go on, as long as there is the need, Triple Sonic is able to develop the proper solution to satisfy demands from clients.
-Service and Performance Lead to Success
Comparing with competitors from Europe, Triple Sonic outperforms with affordable prices and valued services. "Quality of Taiwan's machinery has always been above standard; at the same time, we offer friendlier prices," commented Triple Sonic vice president, Andy Li. "Our machines also excel China products in accuracy, stability, and overall performance." Starting from custom ceramic machinery production and now stepping toward the goal of becoming the premium brand for ceramic machinery, Triple Sonic has accumulated solid experiences in terms of machine development and customer service. Continual upgrading and maintenance assistance helped Triple Sonic build up a reliable reputation among international clients in Asian countries including Japan, where the market standards for safety, precision, and quality of ceramic machines are considerably high. In Korea, Triple Sonic has reached an 80% market share. The future prospects for Triple Sonic Enterprise are to explore a wider market not only in Southeast Asia, but Middle East and Europe as well. No matter buyers looking for advanced roller printing systems or other ceramic machines such as refining ball mill, multiple glazer, waterfall glazing machine, and Dry-Flex printing system, Triple Sonic Enterprise is always ready to offer the right solution based on technical expertise and cordial service.
# # #