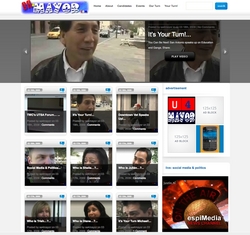 Our goal is to open the door to everyone. We want to go beyond traditional candidates forums, and complement the richest of local media
San Antonio, TX (PRWEB) April 12, 2009
It has been less than 90 days since SA4Mayor.com launched, but come Tuesday April 14, what first started as a Digital Journalism project of the heart, will mark a historic moment in community-driven journalism, and what is to be the Alamo City's first online and on site LIVE Town Hall Meeting where the people of San Antonio have the final word.
"Our goal is to open the door to everyone. We want to go beyond traditional candidates forums, and complement the richest of local media," says Patricio Espinoza, Emmy award winning journalist and Founder-Managing Editor of SA4Mayor.com. "We have built an online 24/7 stage, they - the people - are coming, and now it is up to the candidates to meet the challenge."
The Interactive Townhall is to be webCast LIVE Tuesday, April 14, 2009, 6:30-7:30pm CST. To reach the broadest audience possible, SA4Mayor.com has teamed up with the Current, San Antonio's award-winning alternative news-weekly. Both will carry the webCast on http://www.sa4mayor.com and http://www.sacurrent.com.
'The Current is proud to be a part of this grassroots effort to create a forum for San Antonio's citizens to speak directly with their candidates,' said Current Editor Elaine Wolff. "SA4Mayor.com has made an impressive debut this election season, and we're looking forward to partnering with them on future projects that put the power of the internet to work for the people."
Top contenders Julian Castro, Diane Cibrian, Trish DeBerry-Mejia, and Sheila McNeil have confirmed their participation. In recent weeks several of the campaigns have hosted their own blogging and twitter events. Following the webCast, the town hall video will be available on-demand, in the remaining days leading up to the election.
During the Town Hall Meeting, a live online and on site audience will be asking the questions. SA4Mayor.com has also recruited the San Antonio's Social Media Club membership to bring a greater number of Twitters, bloggers, and social media users. "It's Your Turn" a series of SA4Mayor.com web video reports, connecting the candidates for Mayor, and questions from San Antonio's voters will also be used. "It is after all, Your Voice, Your Vote, Your Forum, to on elections day pick Your Mayor... and everyone is invited," says Espinoza.
Self funded, SA4mayor.com is powered-by a local crew of experienced news media professionals and volunteers. "Many are journalists in transition working for the greater good regardless of whether we get paid or not," says Espinoza, who has also been able to recruit NewTek, a San Antonio based company, and one of the world's top technology players in new media, winner of a 1993 Emmy for their invention of desktop video.
"Technology plays a big part in what we do," said Patricio. Newtek is the creator of the TriCaster. "It's a digital studio in a box that allows our team to put out a broadcast quality, live online product literally with a click of a mouse." 'NewTek is proving in-kind the one thing that brings it all together.' AT&T Wireless has joined this groundbreaking event, and will be powering wireless laptops. Cynthia Muñoz of Muñoz Public Relations, MPR is also supporting the effort as well as renowned Taco Taco Cafe, a family owned local restaurant, and attorney Magdalena Gonzalez.
San Antonio College, RTF Dept. Chair Markene Bennett is hosting the Virtual-Interactive Townhall meeting at the school's state-of-the-art RTVF facility.
"It is good to see our community come together, our volunteer crew, our partners, and these local businesses share our vision and efforts in the public interest, because local democracies and local Journalism thrive with local support," concludes Espinoza.
© 2009 SA4Mayor.com | Follow Us: twitter.com/sa4mayor
CONTACTS: Cynthia Muñoz, MPR, 210.860.9633 cynthia(at)munozpublicrelations.com
NewTek Inc., Jennifer Thurlow, 210.370.8216 jthurlow(at)newtek.com
SA4Mayor.com, Marketing, Momenta Plus / ¡Claro Que Sí! Joe Flores, 210.573.7832 jaflores(at)satx.rr.com
# # #