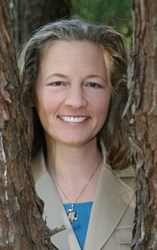 It's important to remember the ancient trade practices when we talk about how much fossil fuel is expended on shipping food
Hillsborough, NC (Vocus) April 13, 2009
This year, Earth Day will be more special than ever before. With the American economy in a tailspin, individuals and communities are finding that good stewardship practices are also providing food and keeping them healthy. Laine Cunningham, author and cultural explorer, offers five top ways to blend modern devices with tribal wisdom so people can become true Earth Keepers.
First individuals must know a little about the beliefs held by many tribes. Native Americans, for example, stored up in times of plenty for the lean months. Equally as important was their reliance on trade. They didn't refuse to eat something just because it didn't grow in their area. Instead they traded something in return, other foodstuffs or crafts.
"It's important to remember the ancient trade practices when we talk about how much fossil fuel is expended on shipping food," Cunningham says. A simple calculation of shipping fuel doesn't take into account the heavy use of pesticides, fertilizers and other chemicals on American farms. Brazilian fruit might therefore have less of an impact on the global ecosystem than something grown by a farm in your own state. Long-distance trade might be the best solution for both regional ecosystems.
Some years ago, Cunningham spent six months camping alone in the Australian outback. After returning to the United States, she began living by the tenants of Native American traditions. She has also obtained the master level in Huna, the traditional Hawaiian belief system. By using the following five tribal ways to honor and nurture the Earth, anyone can become an Earth Keeper.
Way One: Storing up for the lean times. Buy a food dehydrator or separate freezer. When fruits and vegetables are in season, store them away for later. Dehydrators are simple to use and inexpensive to buy. The dried foods also make great pack-along snacks that are crunchy and intensely flavored! Since you'll pay the lowest price at harvest, your budget will benefit when you avoid paying higher prices later.
Way Two: Firestick landscaping. This technique is based on the Australian Aboriginal cycle of firestick farming. Aborigines burned off less-productive species to encourage the growth of food plants. Anyone can plant a blueberry bush, a handful of blackberry canes, or a cherry tree in their yard. Even if people never harvest the fruit, birds and animals will reap the rewards.
Way Three: Honor the Earth by giving back. Setting up a compost pile for yard clippings is a great way to give back to the Earth. Composting your kitchen waste is even better. Apartment dwellers and others who are unable to compost can give back in other ways. Simply dip two fingers into your morning coffee and sprinkle the drops into the four sacred directions. Your intention and the gift will support the Earth in powerful ways.
Way Four: Respect and balance in landscaping. Trees and plants can be classified as male or female. Often individuals reject the fruiting varieties because they don't want any mess in their yards. This disregards the natural balance of male and female required to keep the world healthy and whole. Whenever you plant a male tree, find room for the female, as well.
Way Five: The water-holding frog. Australian Aborigines tell about a frog who drank up all the water. After he was forced to release most of it, he began storing up only enough to get him through the dry season. Use barrels to catch rainwater from your gutters and use it on your lawn in summer. You'll end up taking less from the public system and will even save on your summer water bill.
Laine Cunningham speaks extensively on how modern people can benefit by learning tribal traditions. Her novels also help eliminate the boundaries that separate different cultures. This summer she will release Seven Sisters, a collection of essays tied to Aboriginal folktales that address modern issues like love and relationships, community, and mutual respect. By winter, she plans to have a similar collection of essays tied to Native American stories available.
Sun Dogs Creations, her publisher, is eager to support Earth Day. Their motto, "Changing the World One Book at a Time," speaks volumes about their approach. They brought in Patty Kakac, a singer with four CDs and a live performance on National Public Radio to her credit, to perform a song based on an Aboriginal story. Kakac is herself a lifelong activist and a true Earth Keeper.
Sun Dogs Creations is hosting a promotion for Earth Day. Message Stick will be on sale until the end of April through the author's website. When visitors enter the coupon code Earth Keeper, they will receive the sale price plus a free CD of the Seven Sisters song. Shipping to all US locations is free.
###