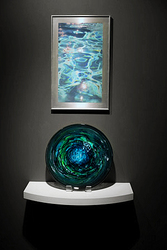 They did so well together, that without too much help from me, more of our clients have inquired about them and purchased their pieces than in any of our shows recently
San Diego, CA (PRWEB) April 15, 2009
When he first introduced glass artist Lea de Wit to photographer Maire Scharpegge, John Hiemstra, Programming Director at The Frame Maker (http://www.theframemaker.com ), knew he had a good show happening if the two worked well together.
In fact, "They did so well together, that without too much help from me, more of our clients have inquired about them and purchased their pieces than in any of our shows recently," he says, obviously pleased with the results, adding, "so much so that we extended their show, 'Echoes', for another month."
After a two week show of work from the "A-is-for-Art" program at San Diego State University's Children's Center, The Frame Maker and the artists will reinstall 'Echoes' (with new pieces to replace the sold) from April 6 through April 28.
"This gives us a chance to follow up with everyone who inquired about Lea's work and what Maire's doing with stainless steel (online at http://www.metalchemy.eu ). I was amazed at what they put together on their own, especially for the first time working together."
Both artists are clearly inspired by organic form and the fluidity of reflection. Glass artist Lea de Wit's "Dragon Scale" series of hand blown glass vessels capture the richness of the unpredictable in nature, whether one sees animal, mineral or elemental forms in her pieces. Lea's work can be seen online at http://www.luckystripe.com.
Photographer Maire Scharpegge's images in "Echoes" are drawn exclusively from water, tightly focussed into abstract shapes with crisp boundaries, and printed on stainless steel with a cutting edge process developed in a San Diego color house. The ever-changing shimmer of the polished steel surfaces breaks through her printed images in a uniquely interactive exchange with the viewer, much like the original inspiration for the work.
Scharpegge's artist statement reads, "My images on metal are based on the concept that water is life; light on water reflects life in its constant state of change. Photography taken from water provides an endless randomness of occurrence. The result seems spontaneous, accidental, pattern-like - just like life."
The extension and re-installation of her show seems to illustrate her point, though Hiemstra points out that the appearance of being "accidental" works to the artists' advantage in his particular showroom, given that The Frame Maker isn't a traditional sales gallery but a professional services business.
"Its usually the second or third time they've been in during the show that a designer or art consultant will say 'I've been meaning to ask you about these...' ", Hiemstra says, adding, "My real goal with The Frame Maker shows is to hook artists up with long-term positive business relationships."
Steps taken for "Echoes" include rebuilding a gallery wall to accommodate Lea de Wit's 14 piece installation of hand blown glass bowls and introducing both artists to art installation professional Eric Gilliat of Level One Art Installation (http://leveloneartinstallation.com).
"Eric didn't just help us hang the show here, he got Maire a show of her work with another client of his, too!"
This also clearly pleases Hiemstra. "We have a terrific creative community here in San Diego, and we are thrilled to help it thrive, especially in uncertain times, getting people to support each other. I mean, six of us on staff here are working artists, so who better to help new artists make the professional leap?"
See "Echoes", contemporary California art glass by Lea de Wit & abstract photography by Maire Scharpegge in person at The Frame Maker through April 28, 2009.
About The Frame Maker:
The Frame Maker is southern California's fine art picture framer, specializing in museum quality framing, contract picture framing to the trade, emerging artist development and supporting the art & design community of San Diego county since 1976.
Contact:
John Hiemstra, Programming Director
The Frame Maker
619. 654. 6208
http://theframemaker.com
###