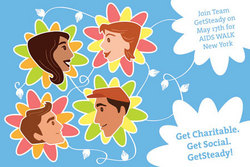 Who knows - maybe I'll meet someone!
New York, NY (PRWEB) April 13, 2009
GetSteady.com (http://www.getsteady.com), an exclusive gay and lesbian singles community with fully verified member photos, today announced its participation in AIDS Walk New York held on May 17th in Central Park. The company seeks to raise $50,000 to support the fight against AIDS.
Team GetSteady has established a group goal of recruiting at least 100 walkers to participate in this historic event, with each volunteer asked to collect at least $25 from 20 different individuals. The first 2,000 contributors of $25 or more receive a free one-year unlimited membership to GetSteady.com valued at $360 each. Each of the 100 walkers will receive a free one-year membership as well. All proceeds go directly to AIDS Walk New York.
AIDS Walk New York, the largest AIDS fundraising event in the world, has raised more than $105 million since its inception in 1986, with revenue directly benefiting HIV programs and services in the tri-state area. Last year alone, the event attracted 45,000 participants and earned more than $7 million.
"In addition to helping a worthwhile cause, Team GetSteady plans to make the day a great opportunity to get together with like-minded individuals. This is an excellent opportunity to meet new singles or connect face-to-face with those you've already chatted with online," explains Michael Zuyus, founder of GetSteady.com. "Who knows - maybe I'll meet someone!"
Featured GetSteady blogger, Coach Sappho, America's Favorite Lesbian Love Coach, Barb Elgin, MSW, LCSW, known for her website Coach Sappho, stated: "I'm so glad GetSteady is joining this year's AIDS Walk in New York. Team GetSteady will be the most exciting group to be a part of during the event. Imagine if every single lesbian brings just one single lesbian friend to the walk, we'll have quite a party!"
Participation in AIDS Walk New York is just one way GetSteady.com reaches out to the LGBT community, with many more exciting events planned in the future. To join Team GetSteady, please visit http://aidswalk.net/newyork/, click 'Register To Walk' and 'Join A Team,' then select team GetSteady.com from the drop-down menu. Visit http://www.GetSteady.com to search member profiles, sign-up for a free three-month trial membership, read featured blogs from The Gay Love Coach and Coach Sappho or colorful blogs from Sarah Pappalardo and Justin Buchbinder.
About GetSteady.com
GetSteady.com is one of the only gay dating sites mandating verified photo authenticity of all active members. The website serves the serious-minded gay, lesbian, bisexual, transsexual and transgender community throughout the United States, with a cost-effective, highly competitive subscription plan to ensure access for everyone. Features include popular blogs by well-known columnists, Rewards Points valid for gift cards and merchandise, friend, hot, hit and block lists.
###