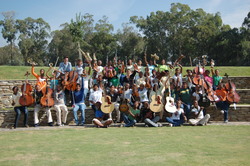 We consider it a great honor to support the Oprah Winfrey Leadership Academy
Nashville, TN (Vocus) April 14, 2009
Gibson Foundation, the philanthropic division of Gibson Guitar, has announced a five-year commitment to work with the music department at the Oprah Winfrey Leadership Academy for Girls in South Africa through year 2012, providing both instruments and financial support to the school's music program. With a common goal of making the world a better place for children and educating the leaders of tomorrow, the Gibson Foundation has committed resources to help broaden the power of music in education and build upon an already remarkable educational environment.
"We are grateful for the Gibson Foundation's generosity. This grant has allowed us to establish a music program for our talented girls to develop new skills, express themselves musically and even create a small orchestra," said Joy Moore, Deputy Head of the Academy.
The Oprah Winfrey Leadership Academy for Girls - South Africa opened its doors in 2007 and has received attention worldwide for providing a supportive educational environment for talented girls from economically challenged backgrounds and giving them skills to help build successful futures. The Gibson Foundation, founded in 2002, shares the common goal to help make the world a better place for children, which it accomplishes through its support of other nonprofit organizations, such as the Oprah Winfrey Leadership Academy, in their efforts to advance education and the arts.
"We consider it a great honor to support the Oprah Winfrey Leadership Academy," said Henry Juszkiewicz, Chairman and CEO of Gibson Guitar. "We believe that music is the international language everyone understands and through music education we can provide a strong foundation for our leaders of tomorrow."
In addition to its relationship with the Oprah Winfrey Leadership Academy, the Gibson Foundation has established partnerships to advance music education throughout the world with such organizations as the Grammy Foundation, MENC (National Association of Music Education) and the International Society of Music Education. In total, the foundation supports nearly 70 non-profit organizations worldwide, all with its core mission focus on education, arts, health & welfare and environmental causes.
For more information on the Gibson Foundation, please visit http://www.gibsonfoundation.org.
CONTACTS:
Caroline Galloway
GIBSON GUITAR
440-338-3469/615-423-4904
caroline.galloway(at)gibson.com
Maureen O'Connor
Rogers & Cowan
310-854-8116
moconnor(at)rogersandcowan.com
###