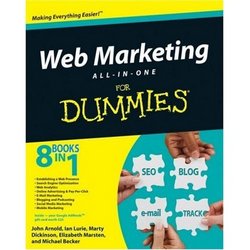 Smart business owners and traditional marketers who want to make their move online should read this book. Novice or beginner, you'll get a lot out of it
Seattle, WA (PRWEB) April 15, 2009
Good news for those lacking internet marketing aptitude. Ian Lurie, President and Elizabeth Marsten, Pay-Per-Click (PPC) Manager of Portent Interactive recently co-published Web Marketing, All-in-One for Dummies, one of the most comprehensive books on internet marketing to date. The Portent team collaborated with John Arnold, Marty Dickinson, and Michael Becker on the 894-page paperback, which reached bookstores nationwide in March.
Lurie, President of Portent Interactive, an internet marketing company has a lot to say about web marketing. He has authored several books on the subject and his blog, Conversation Marketing has a cult following. But the author is most proud of the Dummies book. The volume breaks down into eight mini-books and of that, Lurie wrote Search Engine Optimization, Web Analytics, Blogging and Podcasting, and Social Media Marketing.
"Smart business owners and traditional marketers who want to make their move online should read this book. Novice or beginner, you'll get a lot out of it," says Lurie. "You can literally have no online business or web site, open this book, start with section one and get your whole business going," he relays.
Marsten, Portent's resident PPC Villain adds that the web marketing book isn't just for dummies. "It's a smart book, written in a way that makes sense to those diving into internet marketing for the first time. Anyone can use it as a reference, guide, or dictionary, and it's affordable too," says Marsten.
The PPC section includes how to set up an account and start the first campaign. "I first tell readers how to figure out if PPC is right for them," relays Marsten. "Even if you've never heard of PPC, with this book you'll learn how to maintain an account, how that account should be organized, how to take care of keywords, choose ad copy, and how much to spend," she explains.
Lurie and Marsten celebrated the release in true Portent fashion: burgers, beers, and ice-cream cake. "I'd never presume to say that this is the best internet marketing book ever. There are a lot of them, each with pluses and minuses. However, this is definitely one of the most complete," Lurie concludes. Web Marketing, All-in-One for Dummies retails for $34.99, includes a $25 Google AdWords Credit, and is available on Amazon.com and in bookstores.
About Portent Interactive
Portent Interactive is an internet marketing company located in Seattle, Washington. They perform search engine optimization, paid search marketing, social media and site optimization for clients including Advertising Age, AutoWeek, Attachmate, The Machinists Union and Trump University.
###