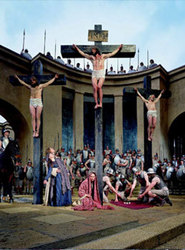 It's not every day that an opportunity like this presents itself
El Segundo, CA (PRWEB) April 15, 2009
YMT Vacations has introduced a new vacation to their affordable travel options, featuring the world-famous Oberammergau Passion Play in Germany. Although a year to a year and a half away, the specific departure dates scheduled between May and September of 2010 are an opportunity for guests to enjoy an inspirational event that occurs once a decade in addition to exploring great European highlights.
"YMT has planned many trips to Europe over the years. However, this trip is truly special and unique as compared to our current European vacation itineraries," commented Frank Channel, Vice President of Operations for YMT Vacations.
At the beginning of this 11-day tour, guests enjoy time to explore Munich, Germany and Salzburg, Austria before traveling into picturesque Oberammergau. An event that takes place once every decade, the highlight of this unforgettable vacation is attending the day-long Passion Play performed by over 2,000 local musicians, actors, and stage technicians depicting the life and death of Jesus Christ. The play originated when the villagers of Oberammergau vowed to hold it every decade if God would spare them from the bubonic plague and now attracts more than half a million visitors during its showing.
"It's not every day that an opportunity like this presents itself," said Frank Channel. "The interesting tradition and amazing production surrounding the Oberammergau Passion Play is simply incredible, making YMT proud to take our guests to witness a once-in-a-lifetime opportunity like this."
Following the Oberammergau Passion Play, guests will continue on to explore the sights of Italy. Highlights of the remainder of the vacation include time in Verona, commonly known as the setting to Shakespeare's Romeo and Juliet; Florence, a gem among beautiful Tuscany region; and the "Eternal City" of Rome.
About YMT Vacations:
Since 1967, YMT Vacations has offered affordable travel packages to value-oriented adults. With itineraries to Alaska, Hawaii, and Europe - as well as specialty tours featuring the Canadian Rockies or Autumn Leaves - all guests enjoy a unique vacation experience while YMT handles the details behind hotel accommodations, included day activities, and transportation.
Contact:
Oliver Milton
Marketing Director
800-922-9000 x7122
###