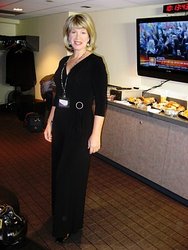 Our flagship product line, called BooJeeBeads enables women who have to wear an employee ID badge the opportunity to wear it with style
Sarasota, FL (PRWEB) April 15, 2009
Kimberly Martinez, CEO and Co Founder of Bonitas International shared her personal story, business advice and 2009 growth plans on the Today Show with Kathy Lee and Hoda. She was featured along with Nell Merlino, CEO and Co Founder of Count Me In For Women's Economic Independence and Garnett Newcombe, Co-Founder of Human Potential Consultants.
Bonitas announced prior year sales in excess of $2 million and plans to double their business in 2009 dollar despite the negative economic environment. "Our flagship product line, called BooJeeBeads enables women who have to wear an employee ID badge the opportunity to wear it with style," says Martinez "Our products are an affordable indulgence and our target customer is a woman with a job. I have no doubt that we have significant potential to grow in the upcoming year and beyond."
In fact, in the first quarter the company created three new jobs, doubled the size of its distribution center and introduced three new innovative product lines. Their fashion lanyard line and retractable badge reel jewelry are available at 4,000 stores in North America and Western Europe as well as online at http://www.BooJeeBeads.com, http://www.EyeGlassHolders.com and http://www.GuardianAngelBracelets.com.
Bonitas International is no novice at generating top of the line products. In 2007 the company won "Best New Gift Product Award" from Orca Communication and "Hottest New Gift Market Product" in 2004.
Bonitas was also the winner of the Make Mine A Million $ Business Award, a program of not-for-profit Count Me In for Women's Economic Independence, in 2006. While women own 50% of the business in the US, less than 4% have sales in excess of $1 million dollars. The company hit the $1 million revenue mark in early 2007 and has continued it rapid growth ever since.
"Count Me In for Women's Economic Independence has been a tremendous resource in helping us to achieve our growth goals," says Martinez. The organization has announced a bold, new national initiative to engage hundreds of thousands of women entrepreneurs in growing their business. The brand new Make Mine a Million $ Business RACE encourages women to grow their business to revenue goals of $250,000, $500,000 or $1 million and more in an effort to create 800,000 new jobs. "Thousands of women have already signed up and are receiving key support and tools to build their businesses I strongly encourage other women who want to grow to join me and other successful entrepreneurs in our RACE to the millions."
To view the Today Show segment visit the following link: http://budurl.com/wkeg
For more information about the company http://www.BonitasInternational.com or contact Karen Bryant at 941 548 -1931
###