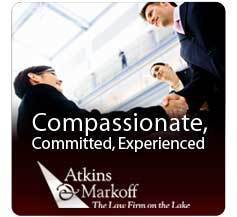 Oklahoma City, OK (PRWEB) April 14, 2009
Given the growth of the practice and the need for the people of Oklahoma and the rest of the country to secure proper legal representation, the law firm of Atkins & Markoff, with its headquarters in Oklahoma City hereby announces the launch and release to the public of its new, comprehensive, interactive and technologically advanced Web site. The URL for this new Web site can be found at AtkinsAndMarkoff.com.
The Web site will contain several innovative aspects within its architecture that will provide a positive user experience, including a blog that will provide regular updates to visitors regarding news and updates within the legal world. It presents videos discussing various Oklahoma laws, video testimonials and will feature Oklahoma legal facts and information regarding the following areas of law: Criminal Law, Defective Drugs, Defective Products, Estate Planning, Family Law, Personal Injury and Workers Compensation.
The Web site also contains useful interactive tools for anyone searching for legal help. For instance, users can take a virtual, video office tour of the firm's headquarters in Oklahoma City, can comment on the latest legal news that's posted on the firm's blog and can locate the firm's location and plot driving directions with functionality from Google maps.
Atkins and Markoff is a law firm with a team of attorneys, paralegals and support staff located in Oklahoma City, and the firm has handled thousands of cases since 1999. Their different legal teams compliment all areas of Oklahoma law, from Criminal Defense to Personal Injury. The new Web site will provide visitors with an opportunity to learn about all these areas of Oklahoma law as well as learn about the attorneys who practice within them.
###