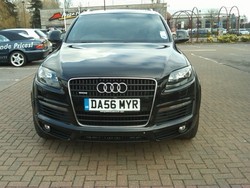 London, UK (PRWeb UK) April 26, 2009
A1 Trade Centre is an established name in the domain of quality used cars deals in Greater London. Well spread in the UK, it also offers cars for international markets which include Cyprus and Europe.
Discerning customers, who have an eye for the best deals, prefer A1 Trade Centre for sourcing quality used cars to suit every budget. All cars purchased from the most reliable and dependable avenues are prepared to exacting standards.
It is not a mere coincidence that A1 Trade Centre has established itself as London's leading dealer and independent trader on used cars for sale. All popular models including Vauxhall mini, BMW, Mercedes, VW, Honda, etc, are made available at competitive prices both in store and delivered to door, as well as part-exchange.
A1 Trade Centre has now come up with an unbelievable free 'MOT's for Life' offer for all their customers who buy a car through them. What makes the offer truly tempting is the fact that it's slated to be a permanent one keeping in mind the impending recessionary phase. The company wants to provide a relief to their customers through this irresistible offer. Noteworthy features of A1 Trade Centre offerings are free MOT, absolutely affordable prices, part exchange facility, attentive customer-friendly services and attractive finance options.
It is so very easy for customers to qualify for its Free MOT for life offer. Just buy a car from A1 Trade Centre, and irrespective of how long you keep it in your name on the logbook and have the proof of purchase, A1 Trade Centre will issue a free MOT upon the car passing the test. Key manufacturers it deals with are VW, Audi Merc/Smart and Vauxhall amongst others...
The regulatory bodies that monitor the used car industry are Trading Standards, Ministry Of Transport, DVLA, FSA and the Retail Motor Industry Federation. 'According to RMIF, the latest interest rate cut will ensure a greater disposable income for consumers, which will result in greater confidence. According to RMIF director, Sue Robinson, consumers should now feel far more confident about making purchases. Car dealer showrooms are now offering a wide array of 'value-for-money' deals on customer-friendly financial packages and used car stock. A1 Trade Centre is a case in point.
Invariably all top search engines like Autotrader, Google, Exchange and Mart refer business to A1 Trade Centre which in turn, refers business to Kwik Fit, local businesses, mechanics, Perth Transport Ltd. - Perth, AK Motors - East London, etc.
Astute customer relationships define A1 Trade Centre's service. Dealing with a valued customer for only a couple of times will lead to a lifetime relationship, something rarely witnessed in the motor trade (second hand cars). Mostly, the buyers are professionals in their twenties or early thirties, who are an ideal category to deal with.
The efficient personnel of A1 Trade Centre help customers in every possible way so that their problems are taken care of when making a BUY decision for a car, paying attention to all crucial aspects like finance, after market accessories, warranty of engine and gearbox, servicing and bodywork and MOT. A1 Trade Centre is a used car dealer that offers value for money by providing expertise in part exchanging vehicles they may own, as well as searching and comparing competent vehicles online.
The factors that prompt a customer to buy cars at A1 Trade Centre are competitive prices, excellent customer service, full-fledged service history, reputation, all combining to give full value for money. There are other facets like free drive away insurance, warranted mileage vehicles, HPI checked cars, delivery service within the UK, flexible payment options, convenient working hours, 3 months mechanical warranty and delivery options to almost all parts of the world that make the offer even more compelling.
# # #