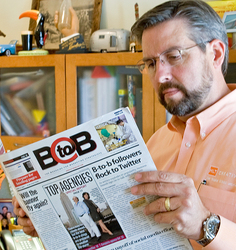 This is a big deal for all of us at MLT Creative. Being named one of BtoB's Top Agencies by the top publication in the business is an honor
Atlanta, GA (PRWEB) April 15, 2009
MLT Creative, a business-to-business marketing and advertising agency, announced today that it has earned a coveted position on BtoB Magazine's "Top Agencies of 2009" list. Appearing in the publication's April 6 issue, the annual list of 125 includes small, medium, large and technical B-to-B agencies from around the country.
The BtoB editors select agencies that have orchestrated the most outstanding, challenging, inventive and effective campaigns. The list includes agencies from across the country.
"This is a big deal for all of us at MLT Creative. Being named one of BtoB's Top Agencies by the top publication in the business is an honor," said Craig Lindberg, MLT Creative executive vice president." We're proud that our ideas and work have been recognized and we're pleased to be in such great company."
The Atlanta-based agency specializes in business-to-business advertising and marketing. Founded in 1984 by Billy Mitchell along with partners Craig Lindberg and Glenn Taylor, it is known as the Idea Launch Pad for B-to-B marketers. Its services include strategic planning, positioning, brand development, advertising and sales promotions.
This latest accolade follows recent honors from the Atlanta chapter of the American Marketing Association, which bestowed upon MLT Creative the Atlanta Marketer of the Year Award in the category of B2B Visual Branding. The agency was also named a finalist in four other categories. Mere weeks before that, MLT Creative received a finalist nod in the MAX Awards -- honoring marketing's leading innovators in Georgia.
MLT Creative works on behalf of business-to-business leaders in various industries. Clients include companies like Sto Corp, the world's leading manufacturer of exterior wall claddings; Airgas, the country's largest distributor of industrial, medical and specialty gases; and Manheim, the world's largest provider of vehicle remarketing services.
About MLT Creative
MLT Creative, based on the east side of Atlanta, GA, with a Northeast office in Rhode Island, was founded in 1984. Known as the idea launch pad™ for B-to-B marketers, MLT Creative's services include strategic planning, positioning, brand development, advertising and sales promotions.
###