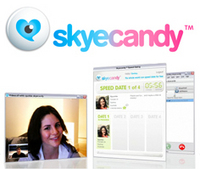 Skyecandy's intent is to create a powerful brand of integrity, and visually appeal to fun and genuine people, and in particular, women seeking men
Sydney, NSW (PRWEB) April 15, 2009
Skyecandy today introduced video speed dating to Skype users, a fast, fun and free dating service that matches members for 5 minute speed dates with real people all over the world from the comfort and security of their own home.
Skyecandy is Open for Beta Testing
Available now for Windows, Skyecandy Skype app is listed in the Community section in Skype Extras.
Skyecandy is inviting single men and women on Skype all around the world to be the first to try it out and provide feedback.
Designed With Women in Mind.
Skyecandy is all about having fun and is designed to encourage a friendly environment where every member has a visible history of friendliness.
Skyecandy offers females the security to meet men face to face to find potential partners or make new friends using Skype without having to exchange any personal information.
Women can feel good about a mutual attraction, as it takes a Yes from both parties to make a speed date successful or express guilt-free rejection without any obligation to continue communication.
"Skyecandy's intent is to create a powerful brand of integrity, and visually appeal to fun and genuine people, and in particular, women seeking men," said Melonie Ryan of Acronym Design.
Features Unique to Skyecandy:

Choose the number of consecutive speed dates
Friendly Star Rating for every member
Make personal Reminder Notes about speed date partners
Review and Confirm Process to reconsider votes and finish rating dates
Send surprise P.S. Notes to Yes vote partners
Results area that allows members to continue free communication
Add successful dates to Skype contacts
Send Cheeky Notes to successful dates
For more information about Skyecandy and how it delivers an easier, faster, and safer online dating experience, visit Skyecandy About Us.
About Skyecandy.com:
Skyecandy.com is the first Video Speed dating service on Skype and allows members to be matched to real people all over the world for 5 minute speed dates across all time zones. Skyecandy is committed to bringing a fun and friendly experience and introduces Friendly Star Rating, personal Reminder Notes, P.S Notes and Cheeky Notes to its online speed dating community.
###