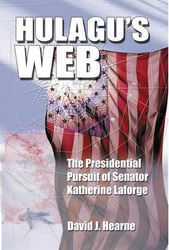 Hulagu's Web-The Presidential Pursuit of Senator Katherine Laforge
Washington, DC (Vocus) April 14, 2009
It has been rumored that Senator Katherine Laforge and Governor Sarah Palin have each other on their Vice President short list for the 2012 elections. Sarah Palin has already founded a political action committee exploring her future candidacy. David Hearne the author of "Hulagu's Web-The Presidential Pursuit of Senator Katherine Laforge" offered a hint that Katherine might also run in 2012.
Both potential candidates have their share of media coverage. The last few weeks have been awash with the tabloid sensationalism over the kiss and tell ex-boyfriend of Bristol Palin the daughter of Governor Sarah Palin. Bristol's ex beau, Levi Johnson, is an 18-year-old high school dropout whose mother, Sherry L. Johnson made headlines just before Christmas in 2008 with six felony counts involving a controlled substance. Bristol, who was pregnant at 17 from Levi, was upset when she heard about his appearance and public airing of the sex details of their relationship on the Tyra Banks show, which was reminiscent of the old Jerry Springer Show episodes. Levi stated that he has at least two messages for America: "His family is not 'white trash,' and there's nothing weird about his sister tattooing his name on her wrist."
Senator Laforge who was also attacked by the media in her 2004 campaign with salacious innuendos about a purported affair with Wilson Lawson the captain of a yacht understands how easy it is for the news to use trivia to divert attention away from real political issues.
Senator Laforge reminds Sarah Palin that past residents of the White House have also had soap operas with members of their families. Jimmy Carter had to endure his brother Billy urinating on an airport runway in full view of the press and dignitaries. Richard Nixon actually ordered wiretaps on his brother's phone and Lyndon B. Johnson supposedly ordered the Secret Service to keep his brother as a virtual White House prisoner, to control his drunken cavorting. Al Gore's son was arrested for racing his Prius full of weed and pills down a California highway. President Clinton had his problems with his affair with Monica and having his brother Roger arrested and convicted of cocaine distribution. And just recently President Obama's half brother Samson from Kenya was accused of an attempted sexual assault on a 13 year old girl and denied a visa to return to Britain.
Regarding a Laforge/Palin 2012 ticket, David Hearne did state, "As far as I know Sarah Palin has not made any overt act of communicating with Senator Katherine Laforge regarding a joint ticket." When asked if Palin had read "Hulagu's Web" and gained any insight from it, Hearne replied, "I have no first hand knowledge if she has or hasn't, but we hope if she does that it gives her a concise picture of Senator Katherine Laforge's political platform. Palin or her aides can purchase the book at Amazon.com."
Hearne continued, "'Hulagu's Web' is about a woman running for president and the assassination attempts against her. The book examines the likely assassins and the probable reasons behind the 2004 deadly attacks. It talks of her unorthodox quest for peace between Iraq and the USA that incensed her foreign policy adversaries. It debates if any of the thousands of accountants, lawyers or IRS agents who fear and loathed Katherine's campaign pledge to replace Income Tax with a simple national sales tax could have been behind the attacks? Hulagu's Web examined the Senator's policies for the United States to end its reliance on foreign oil, which infuriated the billionaire oil cartel. Last but not least, the book questioned if it is simply that Senator Katherine Laforge is a clear and present danger to the age-old bastion of men at the helm of the United States?"
Senator Laforge of Houston, Texas has said numerous times that, "America has become a vassal state to OPEC. Our military men and women are offered as a serf army to the OPEC nations. We use billions of US tax dollars and the blood of our soldiers to preserve the power of these unpopular governments. Wind power and solar energy could quickly free us from OPEC's shackles." Hopefully Sarah Palin will agree to this assessment.
Sarah Louise Palin is the Governor of Alaska. She is also the first female governor and the youngest person elected governor of Alaska. Palin was also the Republican Party's vice-presidential nominee for the 2008 United States presidential election.
Emerging from the pages of Hulagu's Web is a thesis that members of congress and groups of businessmen clandestinely work together, backed by substantial funds, to corrupt the present democratic system and establish their own plutocracy. Unfortunately, the proposition is a believable scenario and as the story unfolds, some may find themselves wondering if this scenario has not already happened. Hulagu's Web is more than a novel of political intrigue; it questions and thoughtfully considers grave problems of our contemporary, global society.
###