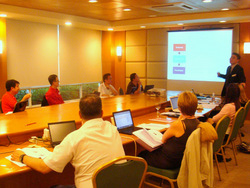 The AdWords workshop was a full house
Singapore (PRWEB) April 16, 2009
Finggle conducted its first search marketing workshop specializing in Google AdWords advertising on March 7, 2009. This new AdWords training workshop was a collaborative effort by Finggle and Tan Kian Ann, founder of TechBiz Central, to conduct regular AdWords course in Singapore.
The AdWords training workshop was developed and targeted to help business owners who outsourced search engine marketing and AdWords management, to understand how to better instruct their AdWords specialists to run cost-effective and profitable campaigns.
"The AdWords workshop was a full house," said Jolly Tan, director of Finggle Pte Ltd. "We have to move to a bigger venue to accommodate all those who registered for the 1-day course."
"With the current economic downturn, more business owners are careful with their advertising expenditure and they want to know how their money is spent on Google AdWords and the effectiveness of these AdWords PPC campaigns" added Jolly Tan. "Singapore is one of the fastest growing markets in online advertising in the region and we want to help business owners to better use Google AdWords to market their services and products quickly to the world."
One participant, Hong Teo, CEO of Cambodia.com commented, "This is a good introduction to AdWords. I know what to expect from my AdWords manager now."
Another participant, Angelica Marquass who is planning to manage her own AdWords campaigns for her online business said, "A short, valuable, cost effective and informative course for all who are interested in doing business via AdWords."
The AdWords training workshop not only gave the participants the know-how's of running AdWords campaign, it also provided case studies to help participants identify the best practices by Google AdWords professionals.
The AdWords course covers general search marketing fundamental such as online buying cycle and also AdWords specific topics such as setting up a campaign, budget control, keyword matching, split-testing and analytics. Ample hands-on sessions and case study to practice what they've learned and also what to look for when hiring an AdWords manager.
To find out more information on AdWords Training Workshop and the next scheduled course, please visit http://www.finggle.com/adwords-training/
About Finggle Pte Ltd:
Finggle Pte Ltd is one of the first and leading training company to offer professional search engine optimization training in Singapore. Besides customized in-house training for corporate, Finggle offers regular SEO training workshops and web design courses for online business owners, marketing executives, IT professional and lecturers in ICT and digital media. Visit http://www.finggle.com
About TechBiz Central
TechBiz Central is a web marketing agency specializing in helping small and medium enterprises gain an upper hand in online marketing. By recommending and implementing systematic web marketing strategies, TechBiz Central has helped many companies in Singapore and the region gain a competitive advantage on the Internet. Visit http://www.techbizcentral.com
###