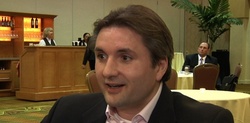 We're looking at a YouTube scale service deployment that allows anyone to contribute, browse and search
San Francisco, CA (PRWEB) April 14, 2009
Jeff Clavier, blogger and founder and managing partner of SoftTech VC, one of the most active seed stage investors in Web 2.0 start-ups, says combining search engines, micro-blogging and video can bring together communities around social goals. By combining these functions on mobile phones and computers, it's suddenly possible to draw in people, who share a common passion, to form massive new networks.
A video interview with Clavier on how a multifunctional Web platform can facilitate community building is featured on IdeasProject, a unique website developed by Nokia. IdeasProject is an online "information space" that provides a new way to interact with thought leaders and their big ideas about the future of connected communications. For more on Clavier's big idea, visit:
http://www.ideasproject.com/idea_person.webui?id=2801
"We're looking at a YouTube scale service deployment that allows anyone to contribute, browse and search," said Clavier. "Once we have this established, we can make it available via such outlets as mobile and a computer. Then it is up to individuals to form communities to organize themselves and create new conversations, fostering improvements in such areas as medicine, for example, that were previously not available to us."
"The Internet's capacity for connecting people continues to evolve," said Valerie Buckingham, director of technology marketing, Nokia. "The integration of phone and Web is rapidly accelerating, contributing to the human dialogue in multiple ways. That's why we're thrilled and honored that Jeff has shared his thoughts about the Web's impact on human relations with us."
Over the next three months, IdeasProject is asking the public to share and submit their big idea with the world by visiting http://master.ideasproject.com/userideasubmit.webui. Editors will review all contributions and feature their favorite on the IdeasProject blog. Contributors whose big ideas are featured will receive a brand-new Nokia N95.
About Jeff Clavier
Jean-Francois 'Jeff' Clavier is the Founder and Managing Partner of SoftTech VC. Since 2004, his company has invested in more than 50 consumer Internet companies, almost exclusively in Silicon Valley. In 2008, BusinessWeek named him one of 'The 25 Most Influential People on the Web,' praising his eye for fast-rising startups, such as news feed aggregator NetVibes, personal-finance service Mint, and social advertising network SocialMedia.
He is often noted for his investments in 'passion-centric communities' and online gaming, or for having sold five of his Web 2.0 startups to the likes of Yahoo, AOL or Hearst Interactive. In 2000, Jeff became President of RVC Capital, the firm managing the Reuters Greenhouse Fund with $600M invested in 82 companies, including Yahoo!, Verisign, Phone.com and Infoseek. Jeff was born, raised and educated in France, earning a MS in Computer Science and a research degree in Distributed Computing.
About IdeasProject
IdeasProject, a project of Nokia hosted at http://www.ideasproject.com, brings together the most visionary and influential "big thinkers" to contemplate the big ideas that matter most to the future of communications. It is a new kind of conversation platform aimed at uncovering the connections between these thought leaders and their disruptive ideas. Explore the IdeasProject website, subscribe to its RSS feed, join its Twitter feed (IdeasProject), and come back often to learn about great new big ideas as they break.
About Nokia
Nokia is the world leader in mobility, driving the transformation and growth of the converging Internet and communications industries. We make a wide range of mobile devices with services and software that enable people to experience music, navigation, video, television, imaging, games, business mobility and more. Developing and growing our offering of consumer Internet services, as well as our enterprise solutions and software, is a key area of focus. We also provide equipment, solutions and services for communications networks through Nokia Siemens Networks.
###