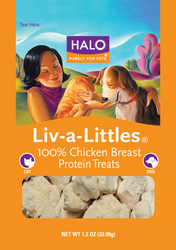 The opinion that matters most to us is that of our customers –both our pets and their owners
New York, NY (PRWEB) April 15, 2009
Halo Purely For Pets (halopets.com), a leading producer of holistic pet care products, today announces its Liv-A-Littles 100% White Meat Chicken Protein Treats is the 2008 Buzzillions Reviewer's Choice™ Award Winner for Best Dog Treat for Long Time Pet Owners. Winners of the Buzzillions Reviewers' Choice Awards are selected based on the opinions of real consumers who have purchased and used the product and posted their reviews on Buzzillions.com (http://www.buzzillions.com), the Web's premier hub for customer reviews.
Buzzillions.com is the only product review site that categorizes its reviews by "user personality", enabling consumers to get ratings and reviews from people just like them. In the case of Liv-A-Littles, the award was determined based on reviews specifically from Long Time Pet Owners, who know their dog treats. And while this award recognizes Liv-A-Littles as the best treats for dogs, many of the reviews are from cat owners, who name Liv-A-Littles as a favorite cat treat as well.
"The opinion that matters most to us is that of our customers –both our pets and their owners," said Alan Kerzner, President of Halo. "Since the Buzzillions Reviewers' Choice Award is wholly based on the feedback of those who have experienced our products first hand, this award is especially meaningful to us. Not only does it show that pets love Liv-A-Littles, but long time pet owners – the ones that know best about the health and well being of their pet – are confident in the Halo brand."
Made from 100% white meat chicken breast, this Halo Liv-A-Littles treat lets owners reward their pets with the taste and benefits of a high-protein, low-carb snack. Liv-A-Littles pet treats can be given whole or easily crumbled and added to food as a tasty incentive at mealtime.
"Most product awards are judged by a small group of industry experts," said Andy Chen, CEO of Buzzillions. "The Buzzillions Reviewers' Choice Awards are unique in that they are judged by the people, for the people. It speaks volumes for Halo to be recognized by the toughest judges of all – their customers."
For a full list of winners visit Buzzillions Reviewers' Choice Award Announcement (http://blogs.buzzillions.com/reviewers-choice-award-winners/)
ABOUT HALO, PURELY FOR PETS®
For twenty years, Halo, Purely for Pets® has created holistic pet products of uncompromising quality. Halo believes nutrition is the single most important factor in the quality of a pet's life. With it, good health follows. By staying as close to nature as possible, we have seen phenomenal changes take place in the lives of thousands of pets and the owners who love them.
Since Halo's inception, the company has been an active advocate helping conscientious pet owners better understand how nutrition plays a role in their pet's health and vitality. Named for our belief that pets are our little angels, Halo continues to develop innovative and high quality pet products which help pet-owners better love and care for their "extra member of the family." In 1986, Andi Brown founded Halo, Purely for Pets® after her cat "Spot" was plagued by digestive problems, skin irritations and excessive shedding. Andi soon learned that all of Spot's symptoms were a direct result of nutrients lacking in his diet. Finding "premium" cat foods seriously lacking, she created a "stew" made from all natural ingredients and Spot was soon cured of his ailments and healthy again.
Unlike other companies who keep their formulas under lock and key, the original Halo Spot's Stew recipe is made available for all pet owners, along with recipe suggestions for other pet meals and treats that can be made at home. Halo recipes can be found at http://www.halopets.com/recipes.
In March 2008, award-winning talk show host and comedienne, Ellen DeGeneres, became a part-owner of Halo, Purely for Pets®. At the same time, the company also expanded its line of all-natural pet food and pet care products.
The company also expanded distribution with a variety of major retail chains such as Whole Foods and Petco, as well as thousands of independent pet specialty and natural outlets.
Pegasus Capital Advisors, a private equity fund manager with offices in New York and Cos Cob, CT, holds majority ownership in Halo, Purely for Pets. Founded in 1995, Pegasus provides capital to middle market companies across a wide range of industries, and has particular interest in businesses that make a meaningful contribution to society by positively affecting the environment, contributing to sustainability and enabling healthy living. http://www.pcalp.com. For more information, please visit: http://www.halopets.com
About the Buzzillions® Reviewers' Choice™ Awards
Buzzillions Reviewers' Choice Awards are selected utilizing a special algorithm that ranks products reviewed by consumers in the calendar year of 2008. This algorithm incorporates star ratings, number of reviews and the reliability of the reviewers (reviews by "Verified Buyers" are given more weight). The #1-ranked product is awarded "Reviewers' Choice Winner" status. The #2 - #5-ranked products are awarded "Reviewers' Choice Finalist" status. Buzzillions.com, which has nearly five million reviews, is a one-stop product research site for consumers, providing reviews and recommendations from real product users for more than 700,000 products in thousands of categories, including consumer electronics, apparel, sporting goods, health & beauty and home & garden.
###