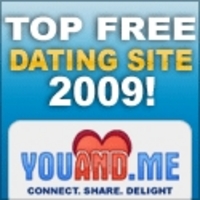 Copenhagen, Denmark (PRWEB) April 15, 2009
YOUAND.ME has partnered with IOVATION.COM, a leading secure technology firm which has implemented its system and applications on well-known dating and social networking sites to prevent and reduce spammers and scammers from the site, as well as HonestyOnline.com to provide requested background and verification checks for http://www.YOUAND.ME members.
Honesty Online even allows YOUAND.ME dating members to do self-verification checks and receive "HONESTY" badges near their profiles to reflect that their records and backgrounds are clean and accurate.
Steven Sikes, one of YOUAND.ME's founders says, "We easily could have over 50,000 online dating members, but we've banned thousands of spammers and scammers. Working with Iovation and Honesty Online should mitigate this problem and help YOUAND.ME to have a really high quality membership base.
We're focused on quality over quantity and the most social and secure online dating site."
Determined to alleviate the anxieties and fears of its members who will be meeting someone for the first time, YOUAND.ME free dating site offers its YOUANDME Guardian™ feature which allows members to designate another member or members as a "guardian" or "guardians", to check in on YOUANDME members prior, during and after a date, encounter or meeting. The members may receive calls, alerts, messages, or texts soliciting updates from the Guardian to ensure the YOUAND.ME member is safe and all is well.
Another effective feature, YOUAND.ME's RATE-A-DATE™, provides a way for YOUAND.ME online dating members to rate members after they have had a meeting or date with another YOUAND.ME member. This rating application focuses on the accuracy of the members' online profiles and the integrity and character of the rated members. It does not provide a rating system based on the dating experience itself; moreover, the information remains confidential and cannot be viewed by the YOUAND.ME community. However, if a YOUAND.ME member receives ongoing low ratings, action will be taken, including getting banned from the site.
Online dating and social networking are popular these days, but there are obvious risks when communicating with individuals in an online environment. Even though you may feel safe and secure with the vibe and connection you have with persons you've met online, there's no guarantee these people are portraying themselves with complete accuracy. Actually, the same holds true for meeting people offline at clubs, parties, shopping centers, and any other setting.
YOUAND.ME has articles on "safe dating" on the site here http://www.youand.me/news.php , and the site also offers many tips for its YOUAND.ME members. The important rule is to have fun and connect, but be smart and play safe and always have first meetings or dates in a public setting and make sure your mobile phone is fully charged and never carry valuable possessions. And always arrange your own transportation in case you need to make a quick parting or getaway.
YOUAND.ME is committed to offering the safest experience for its members.
This social connect site is only as good as the quality of its members, and their safety and well-being are YOUAND.ME's top priorities.
To learn more about the safest social free dating site on the web, YOUAND.ME, click here and you can join for free and get set to make some exciting and secure connections! YOUAND.ME - Completely free dating and the leader in safe and secure social online dating.
Contact:
Helle Staal
Intermedia APS for Youand.Me
004521734073
###