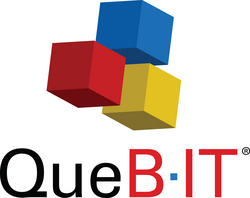 Aligning performance management with business strategy is critical to success in today's incredibly competitive environment. Unified performance management is a prerequisite to achieving the alignment of business strategy and the measurement of its execution
Scarsdale, NY (PRWEB) April 15, 2009
QueBIT Consulting LLC is reorganizing its management team to support the delivery of Unified Performance Management (UPM) solutions for the rapidly changing customer marketplace. Customers that previously separated their investments in Business Intelligence (BI) and Financial Performance Management (FPM) software are now embracing the tremendous value proposition of Unified Performance Management reflecting the convergence of BI and FPM. Leading software vendors like IBM are also adapting their product development strategies to support the rapidly changing needs of customers.
QueBIT will immediately combine its Business Intelligence and Office of Finance teams to create a unified, cohesive structure for effectively managing UPM solutions. The combined QueBIT UPM services team will be led by Kim Weber, Director of Consulting Services. Our customers will benefit from a comprehensive approach to solving client business problems across all critical business areas. "Unifying our consulting team allows QueBIT to deliver truly comprehensive, integrated Unified Performance Management (UPM) solutions. Our outstanding consulting professionals now have the opportunity to work in the collaborative environment necessary to deliver solutions that provide the exceptional value demanded by our clients," noted Kim Weber.
Richard Creeth, QueBIT's Chief Technology Officer, will be responsible for providing the vision and development direction on all QueBIT products and solutions. Richard has been a visionary in the OLAP solution marketplace for more than 20 years. Under Richards's stewardship, QueBIT will continue to be at the forefront of developments in performance management software and solutions. Richard will be supported by Mario Rubbo, Director of Technology. Mario will be responsible for the development and delivery of best practices UPM solutions to solve our customer business problems, now and in the future.
Gary Quirke, QueBIT CEO adds, "Aligning performance management with business strategy is critical to success in today's incredibly competitive environment. Unified performance management is a prerequisite to achieving the alignment of business strategy and the measurement of its execution".
ABOUT QUEBIT
Specializing in providing Unified Performance Management solutions throughout North America, QueBIT empowers companies to make intelligent decisions faster. To find out more information on how QueBIT can work with your organization to achieve results, please contact us at 1 800-QUEBIT1, email us at contact(at)quebit.com, or visit our website: http://www.quebit.com
###