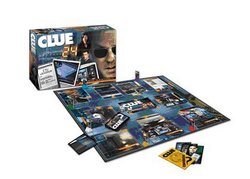 Carlsbad, CA (Vocus) April 16, 2009
CLUE®: 24™ Edition gives fans of the FOX hit television series the chance to solve a harrowing mystery and prevent a catastrophic attack on the U.S., set to occur in a mere 24 hours. The attack will be initiated from inside the Los Angeles CTU (Counter Terrorist Unit) field office. The CTU is ordered to lock down and nobody can go in or out. Six agents are left inside at the time of the lock down. One is the Mole/Infiltrator. It is up to the CTU agents inside to reveal "who" the Mole is; "what" kind of dangerous attack is planned and "where" inside CTU it will happen.
Made by USAOPOLY under license from Hasbro® and Twentieth Century Fox Licensing & Merchandising this Collector's Edition transforms the traditional CLUE game board into a blueprint of the CTU building. Jack Bauer (Director of Field Operations) has been locked out and must provide Intel to the six agents inside via his PDA. Traditional clue suspects such as Green, Plum and Mustard are now represented by CTU agents: Tony Almeida, Special Agent in Charge, Chloe O'Brian, Senior Analyst, Intelligence Agent and Bill Buchanan, Associate Special Agent in Charge. It won't be the first time a mole has infiltrated CTU but it might be the last…unless the mystery is solved within 24 hours. In order to track the time, CLUE®: 24™ Edition includes 8 clock cards each representing 3 hours of time (for a total of 24 hours). If the 8th card is drawn, the Mole's attack is successful and the Agents of CTU have failed - game over.
CLUE®: 24™ Edition is appropriate for ages 9 and older and is available at specialty retailers nationwide including Barnes & Noble, Borders, JC Penney, Go the Game Store and Amazon.com. Visit http://www.unlockctu.com for interactive game exploration!
About USAOPOLY, Inc.
USAOPOLY, Inc. is a leading specialty market board game developer known for its fun twists on classic board games and puzzles. This year's line up includes trendy and timely themed versions of Hasbro's TRIVIAL PURSUIT®, CLUE®, RISK®, MONOPOLY®, THE GAME OF LIFE®, YAHTZEE® and JENGA®. True to USAOPOLY tradition, these great classics have been paired with the year's best titles for exiting new games including THE BEATLES TRIVIAL PURSUIT®, THE OFFICE CLUE®, HALO WARS RISK®, SEINFELD MONOPOLY®, ROCK STAR LIFE®, M&M'S YAHTZEE® and DONKEY KONG JENGA®! Check our full product line at http://www.usaopoly.com.
About Hasbro:
Hasbro, Inc. (NYSE:HAS) is a worldwide leader in children's and family leisure time products and services with a rich portfolio of brands and entertainment properties that provides some of the highest quality and most recognizable play and recreational experiences in the world. As a brand-driven, consumer-focused global company, Hasbro brings to market a range of toys, games and licensed products, from traditional to high-tech and digital, under such powerful brand names as TRANSFORMERS, PLAYSKOOL, TONKA, MILTON BRADLEY, PARKER BROTHERS, TIGER, CRANIUM and WIZARDS OF THE COAST. Come see how we inspire play through our brands at http://www.hasbro.com. (C) 2008 Hasbro, Inc. All Rights Reserved.
About Fox Licensing & Merchandising
A recognized industry leader, Twentieth Century Fox Licensing and Merchandising licenses and markets properties worldwide on behalf of Twentieth Century Fox Film Corporation, Twentieth Television and Fox Broadcasting Company, as well as third party lines. The division is aligned with Twentieth Century Fox Television, one of the top suppliers of primetime entertainment programming to the broadcast networks.
Contacts:
USAOPOLY
5607 Palmer Way
Carlsbad, CA 92010
Anne McBride
tel: 760-602-7646
fax: 760-431-5888
amcbride(at)usaopoly.com
Twentieth Century Fox
Cynthia Pascoe
310-369-2492
cynthia.pascoe(at)fox.com
SOURCE: USAOPOLY, Inc.
###