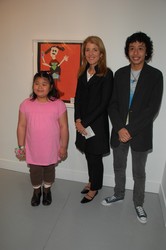 New York, NY (PRWEB) April 16, 2009
Fifty of the world's most prestigious art galleries on Madison Avenue will open their doors for the Second Annual Madison Avenue Gallery Walk on Saturday, May 16, from 11 a.m. to 6 p.m.to raise funds for arts education in New York City public schools. Showcasing the breadth and depth of the collections represented by the world-renowned gallery community on Madison Avenue located between 57th and 86th Streets, New Yorkers and visitors can get a close-up experience of fine art. Highlights of the festivities planned will be free guided gallery tours for families and art lovers conducted by art teachers from New York City's public schools and a silent auction of notable works of art donated by the participating galleries. Organized by the Madison Avenue Business Improvement District (BID), and sponsored by HSBC Bank USA, N.A. and New York magazine, the Gallery Walk will benefit The Fund For Public Schools, a nonprofit organization chaired by NYC Schools Chancellor Joel Klein and Vice-Chaired by Caroline Kennedy and Mortimer Zuckerman.
Madison Avenue, on the Upper East Side of Manhattan, is North America's premier luxury district. Some of the most sought-after real estate in the world, Madison Avenue features the flagship boutiques of the finest European and American designers, over one hundred world class art galleries, exquisite restaurants, dozens of spas and salons for exclusive pampering, six internationally renowned hotels, and the Whitney Museum of American Art. Madison Avenue exhibits timeless elegance with a contemporary flavor that is distinctively New York. This boulevard of understated charm is sure to entice your senses with indulgences from all corners of the globe.
Date: Saturday, May 16, 2009
Time: 11:00 a.m. - 6 p.m.
Location: Madison Avenue,
57th to 86th streets
Manhattan
Event info centers
at Fuller Building
(41 E. 57th Street)
and at Arader Galleries
(1016 Madison, between
78th and 79th)
Information: http://www.madisonavenuebid.org
Participating Galleries:
Adler & Conkright Fine Art
Anita Friedman Fine Arts
Arader Gallery
Armand Bartos Fine Art
Art Finance Partners
Bjorn Ressle Fine Art
Bonni Benrubi Gallery
Dalva Brothers
Danon
DeLorenzo Gallery
Didier Aaron Inc.
E & J Frankel Ltd.
Florian Papp
Fortuna Fine Arts
Friedman & Vallois, LLC
Gagosian Gallery
Gemini G. E. L. at Joni Moisant Weyl
Guild Antiques
Hollis Taggart Galleries
Howard Greenberg Gallery
Hubert Gallery
Jacobson Howard Gallery
James Graham & Sons Gallery
Jan Krugier Gallery
Jane Kahan Gallery
Karl Kemp & Assoc., LTD
Keith De Lellis Gallery
Knoedler Gallery
Kush Fine Art
L & M Arts
Leila Taghinia Milani Heller Gallery
Leo Castelli Gallery
Leonard Fox Limited
Leslie Feely Fine Art
Macklowe Gallery
Mireille Mosler Ltd.
Nathan Bernstein Gallery
Neuhoff Gallery
Nicholas Brawer
Nohra Haime Gallery
Sigrid Freundorfer Fine Art, LLC
Skarstedt Gallery
Soufer Gallery
Stuart Levy Fine Art
Van de Weghe
Virginia Di Sciascio Antique Textiles
Zabriskie Gallery
Zwirner & Wirth
###