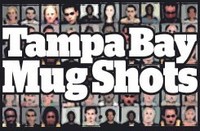 It's also information that can be helpful to readers in a variety of ways
St. Petersburg, Fla. (PRWEB) April 16, 2009
Mug Shots, a new site that features local mug shots of people booked in jail, has been launched by TampaBay.com and the St. Petersburg Times. People who are booked by Hillsborough, Pinellas, and Pasco Sheriff's offices are featured in the gallery.
By clicking on each photo, viewers can read the person's complete booking profile, including name, booking ID, height, weight, age, gender, eye color, birth date, booking date and booking charge.
The information about local mug shots is provided by the local sheriff's offices, but in this format is conveniently displayed and easily searchable. For example, viewers can search mug shots by name or ZIP code. The mugs are posted on the site for 60 days.
"We've compiled the information from public records and made it easy to browse," said Stephen Buckley, publisher of TampaBay.com. "It's also information that can be helpful to readers in a variety of ways," he added.
However, Mug Shots points out that those appearing on the site have not been convicted of the arrest charge and are presumed innocent.
Mug Shots also displays bar charts of facts about the people arrested over the last 60 days: most of them were 5' 9", weighed 141-160 pounds, are between 20 and 25 years old, male and had brown eyes.
About the St. Petersburg Times and TampaBay.com
The St. Petersburg Times is Florida's largest newspaper with an average circulation of 390,289 Sunday and 268,935 daily (ABC publisher's statement 9/30/08). Considered one of the top ten newspapers in the country, the newspaper has six Pulitzer Prizes to its name.
TampaBay.com is Tampa Bay's largest local news Web site, with a combined local and national audience of 1.6 million unique visitors each month (Nielsen//NetRatings average for 4/08-9/08).
###