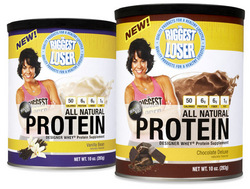 I am The Biggest Loser, I believed it when I said it and I believe it now
Carlsbad, CA (Vocus) April 16, 2009
"I am The Biggest Loser, I believed it when I said it and I believe it now," exclaimed Ali Vincent, the first woman to ever win the coveted title.
Ali Vincent's determination and her desire to maintain her newfound healthy lifestyle is what sealed the deal for DESIGNER WHEY®, America's #1 Protein®. The company is pleased to announce today that they have entered into a partnership to utilize Vincent as a spokesperson for the company's line of whey-based nutrition products. To learn more about the life-changing BIGGEST LOSER PROTEIN products used by Ali Vincent and to request a FREE sample, please visit http://www.BiggestLoserProtein.com/samples. The Biggest Loser Protein by DESIGNER WHEY has been developed through a licensing agreement with NBC Universal Television, DVD, Music and Consumer Products Group and Reveille LLC.
"Ali Vincent is a tremendous American success story and she should be considered a role model for anyone struggling to regain control of their lives and wishing to embrace a smart and healthy lifestyle," commented David Jenkins, Founder and Chief Executive Officer for DESIGNER WHEY. "Vincent embraces everything positive that you would want from a spokesperson and will be the face of our cross-branded DESIGNER WHEY BIGGEST LOSER line of protein powders."
"My life's journey has taken an amazing turn for the better. Through supervised exercise on The Biggest Loser and by using whey protein products, I have regained the energy and strength to accomplish anything I choose," said Ali Vincent. "DESIGNER WHEY and their line of 'good for you' products give me the edge in maintaining my new self image."
"Ali Vincent embodies the ideals of The Biggest Loser—encouraging people to lose weight, better themselves, and live a healthier life, and we're excited she'll be representing the brand as our partner DESIGNER WHEY's newest spokesperson," said Mark Koops, Managing Director at Reveille, the production company behind the show.
Vincent will appear on cross-branded DESIGNER WHEY BIGGEST LOSER products, point-of-purchase materials, print marketing collateral, email campaigns and other marketing materials. She will also make several appearances on behalf of DESIGNER WHEY, blog and conduct live web chats on the company's website.
Today's news mirrors DESIGNER WHEY's December 2008 announcement of their multiyear agreement to create cross-branded products with The Biggest Loser. Contestants of The Biggest Loser Season 7, currently airing on television, will use the cross-branded THE BIGGEST LOSER PROTEIN produced by DESIGNER WHEY in their quest for better health on the show, and after the taping is completed. THE BIGGEST LOSER PROTEIN by DESIGNER WHEY is available in four signature flavors of Blue Blueberry, Red Raspberry, All Natural Chocolate Deluxe and All Natural Vanilla Bean at retailers nationwide. Also available in single serving packets, The BIGGEST LOSER PROTEIN•2GO® is convenient and perfect for the on-the-go lifestyle.
THE BIGGEST LOSER
The first reality series where everybody "loses," The Biggest Loser challenges and encourages overweight contestants to shed pounds in a safe and recommended manner through comprehensive diet and exercise as they compete for a grand prize of $250,000. Hosted by Alison Sweeney (Days of our Lives), the series provides the contestants with challenges, temptations, weigh-ins and eliminations until the final contestant remains to claim the title of "the biggest loser." Each team works out under the supervision of professional trainers Jillian Michaels and Bob Harper. The Biggest Loser is a production of Reveille LLC, 25/7 Productions and 3 Ball Productions.
Beyond the U.S. where more than 100 episodes of the show have aired, The Biggest Loser has become a worldwide hit appearing in over 90 countries and produced in 25 countries. Since its debut in 2004, The Biggest Loser has grown to become a standalone health and lifestyle brand by developing tools and products inspired by the show and approved by its doctors and experts. Anchored by the online, subscription-based extension of the show, Biggestloserclub.com, The Biggest Loser Meal Plan, The New York Times best-selling books series, best-selling fitness DVD series, a line of appliances, fitness equipment, protein supplements and countless other health and lifestyle based products, The Biggest Loser consumer products program has generated over $50 million in spending with presence at more than 25,000 major retailers to date. The Biggest Loser was recognized as a top brand of the year in Advertising Age's 2008 Marketing 50. Check out http://www.biggestloser.com for more information.
NBC UNIVERSAL TELEVISION DVD, MUSIC, AND CONSUMER PRODUCTS GROUP
NBC Universal is a leader in providing entertainment programming to the domestic and international marketplaces. NBC Universal Television DVD, Music, and Consumer Products Group manages all global ancillary television business endeavors for the NBC Universal Television Group, including third-party home entertainment distribution, consumer products, musical soundtracks, special markets projects and the NBC Universal Online Store.
REVEILLE
Reveille is a leading independent television studio with a major presence in scripted and unscripted television and digital entertainment, and a world leader in creating integrated marketing opportunities for advertisers. Reveille's scripted entertainment programming includes "The Office" and "Kath and Kim" (NBC), "Ugly Betty" (ABC) and "The Tudors" (Showtime). The company's roster of highly successful reality programming includes "The Biggest Loser", "American Gladiators", and "Nashville Star" (NBC), "30 Days" (FX), "Parental Control" (MTV) and many more. Through its distribution arm, ShineReveille International, Reveille distributes its extensive library of high-quality programming, along with a broad array of programming acquired from independent producers and U.S. networks, to more than 150 countries.
DESIGNER WHEY
For more than 15 years, DESIGNER WHEY has created the greatest-tasting results-proven products in the marketplace including powders and beverages that help consumers live healthier lives with the benefits of "nature's perfect protein". America's #1 selling protein since 1993, DESIGNER WHEY has dedicated nearly $10.5 million to research and product development. DESIGNER WHEY, a 5X Gold Medal Winner in Taste, is scientifically proven to enhance the fat-burning, muscle-building benefits of exercise. DESIGNER WHEY powers a full line of premium-quality products such as the new BIGGEST LOSER PROTEIN powder, DESIGNER WHEY Protein•2GO® – single-serving packets for an on-the-go lifestyle, and DESIGNER WHEY Protein BLITZ™ and Protein WATER, the latest in ready-to-drink refreshment. DESIGNER WHEY'S BIGGEST LOSER PROTEIN, featured on NBC television's mega-hit reality weight loss show, is designed to help real people get real results with their overall health and nutrition needs. For more information on the company or the full line of DESIGNER WHEY products please visit http://www.designerwhey.com.
###