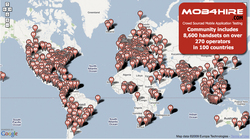 Chantelle's been in the industry for a long time, both selling to and working for carriers. She has expertise with both strong business development as well as new product management
London, United Kingdom (PRWEB) April 16, 2009
Mob4Hire Inc., the leader in crowd sourced mobile application testing and market research, today announced the appointment of Chantelle Hyde-Lewis as Director, Business Development, UK&EMEA.
Chantelle holds a Business Studies and Economics BSC from University of London, 1995, and has a solid history in the software and mobile industry, both as a product manager as well as an account and sales manager.
Her work with Network Utilities Systems Ltd. who make Global Authentication Systems, from 1999 to 2008 saw her close many deals in the £100k to £1million range with companies like Vodafone, Orange, T-Mobile, BT, Virgin Media amongst others.
After joining O2, she brought her product management skills to bear on the genesis of O2 Litmus, driving customer and developer research and working across functional teams in the operator to drive the project forward; not to mention negotiating with Mob4Hire for our services last fall!
In fact, when Chantelle's contract was complete at O2 Litmus, she liked Mob4Hire's business model so much she joined the company.
"Chantelle's been in the industry for a long time, both selling to and working for carriers. She has expertise with both strong business development as well as new product management," states Stephen King, CEO of Mob4Hire. "Now that our private label community on O2 Litmus is live, Chantelle will help other operators and handset manufacturers take advantage of Mob4Hire as a testing community platform."
"Mob4Hire makes such great sense," said Hyde-Lewis. "Operators are very concerned about customer loyalty and reducing churn, and one of the best ways to do this is to create great user experiences. By giving access to early-adopter customers in the functional and usability testing development cycles, mobile app developers can get much better software to the operator's customers."
Chantelle will be working out of London, U.K. She joins Allen Poutanen, VP, Business Development, based in North America, in expanding Mob4Hire's enterprise business on both continents.
About Mob4Hire
With over 8,500 handsets on more than 270 operators in 100 countries worldwide, Mob4Hire (http://www.mob4hire.com) is the leader in real world; crowd sourced, mobile application functional and usability testing. Using Web 2.0 social networking, Mob4Hire significantly reduces mobile application testing costs and reduces time to market by connecting developers with eager, lower priced, crowd sourced testers and focus groups. Mob4Hire also provides their unique micro-payment crowd-sourced MAAP technology (Mob4Hire as a Platform) to developer networks and app stores such as O2 Litmus to allow for private labeled communities to be added to existing Carrier and Handset Manufacturer enterprise systems. Founded in 2007, Mob4Hire was recently chosen as a finalist for both Mobile Monday Peer Awards and the GSMA Top Innovator Awards at GSMA Barcelona, Other recent accolades include an Under the Radar Audience Choice Award, as well as being chosen as one of Backbone Magazine's top 20 Web 2.0 firms. Mob4Hire is headquartered in Calgary, Alberta, Canada with offices in Victoria, British Columbia, and London, U.K. For more information, visit http://www.mob4hire.com, blog: http://www.mob4hire.blogspot.com, or contact Stephen King, CEO, stephen(at)mob4hire(dot)com.
###