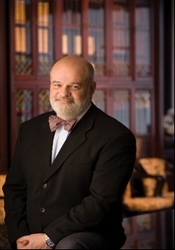 Our institution was founded by the great educator and visionary, Dr. Solomon S. Huebner
Bryn Mawr, PA (PRWEB) April 16, 2009
During the course of their careers, financial service professionals are often profoundly affected by their interactions with clients and beneficiaries. In an effort to document these life-changing events and celebrate the positive value these encounters bring to consumers, The American College is creating a new book, "Living a Life of Significance," to be edited by Senior Vice President Joseph W. Jordan of MetLife.
All designation and degree graduates of The American College are invited to submit inspirational stories of personal significance for inclusion in this unique text. Also designed to be used in course work offered by The American College, the book's examples will help train and inspire future generations of financial service professionals.
"Our institution was founded by the great educator and visionary, Dr. Solomon S. Huebner," said Larry Barton, PhD, president and chief executive officer of The American College. "Dr. Huebner dedicated his life to elevating the professionalism of the financial services industry. Anyone interested in better understanding his vision and the value financial practitioners bring to individuals, families and society will benefit from this powerful book."
Joseph W. Jordan has volunteered to serve as editor of "Living a Life of Significance." Respected as an industry-renowned thought leader and for his inspirational and motivational speeches, including presentations at Million Dollar Round Table (MDRT) events, Jordan brings more than 30 years of industry experience and insight to the task. He is currently a Senior Vice President for the National Sales Organization of MetLife's Individual Distribution group, and leads key functions that develop sales programs and client centric tools that support the sales force to deepen the client relationship.
Individuals submitting stories are asked to limit them to 600 words or less. A professional writer will contact each person who makes a submission to help ensure consistency. Stories must be submitted by June 1, 2009 to be considered for inclusion. The completed book will make its debut at The American College Knowledge Summit in Boston, October 28-30, 2009. An online submission form is available http://www.TheAmericanCollege.edu/Living09. You can also e-mail your submission to Life @ TheAmericanCollege.edu For more information, please contact Adam Batchelor, Director of Alumni Relations at 610-526-1477 or Adam.Batchelor @ TheAmericanCollege.edu
The American College is dedicated to leadership in innovative training and development that helps financial services companies and their employees succeed. As a non-profit educational institution holding the highest level of academic accreditation, The College has served as a valued business partner to banks, brokerage firms, insurance companies and others for over 82 years. The American College's faculty represents some of the financial services industry's foremost thought leaders. For more information, visit http://www.TheAmericanCollege.edu.
# # #