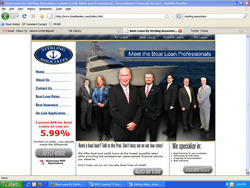 Whitinsville, MA (PRWEB) April 16, 2009
Financial assistance is especially crucial during this time of economic crisis. Sterling Associates is a financial services firm that provides financing, insurance and documentation services for many types of boats, recreational vehicles, and manufactured homes. With the help of Sterling, customers can now afford these vehicles, despite the slipping economy. Sterling offers highly competitive rates, working hard to present customers with the best deals around. Recently, Sterling launched its new website, which includes easy to navigate pages with key facts and contact information on each page, so it's easier than ever for customers to learn about each of the company's four divisions. The site also includes a video, which highlights an overview of the company.
Offices are located in Massachusetts, Connecticut, Kentucky, Florida, Texas, and California, and representatives are available to assist customers throughout New England, the Southeast and the Southwest. Learn about how Sterling Associates' RV division can assist you with a credit line at RV Banker. Sterling's boat division, at Boat Banker, offers financing for new purchases, boaters insurance and Coast Guard documentation. Sterling Associates purchase assistance of both new and used airplanes, includes giving competitive loan rates and refinancing Details may be found at Airplane Banker. Sterling Associates also provides low rate manufactured home loans to customers throughout Massachusetts, Connecticut, New Hampshire, Rhode Island and Maine. To find a loan tailored to your needs, visit Manufactured Home Banker.
Loan applications may be discussed by phone or submitted online to each division.
###