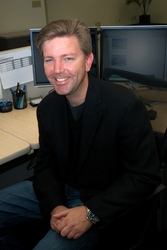 El Segundo, CA (PRWEB) April 16, 2009
CyberCity 3D, Inc. reported today that real estate leader Marty Frame has joined the Company as an Advisor. Frame is the Senior Vice President and General Manager of Cyberhomes, a division of Lender Processing Services, Inc. Prior to that, Frame was Chief Technology Officer for REALTOR.com, where his responsibilities included consumer experience and product development.
Frame, with his vast experience in real estate, is a valuable resource to CyberCity 3D.The Company, a ground-breaking, 3D geospatial modeling company, is located in El Segundo, CA. CyberCity 3D focuses on emerging Geo-Web solutions for the real estate, travel destination, hospitality, government, and geographic information systems (GIS) industries.
Frame, a Yale University graduate, has the distinction of being named one of Inman News' "100 Most Influential Real Estate People" from 2005-2008.
"CyberCity 3D has a wonderful product and a first-rate team," said Frame. "They have a large opportunity in an important space, and I'm looking forward to being of assistance as they evaluate the opportunities ahead of them."
###