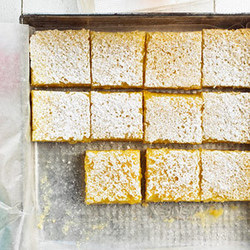 We are sharing some simple, delicious dessert recipes you'll love
New York, NY (PRWEB) April 16, 2009
Better Homes and Gardens magazine and BHG.com today rolled out a batch of easy dessert recipes, cake baking tips and specialty bakeware ideas for spring. Every recipe, including 20 lucious chocolate cookie recipes, has been tested and perfected by the Better Homes and Gardens Test Kitchen.
"We are sharing some simple, delicious dessert recipes you'll love," said Heather Morgan Shott, Senior Food Editor of BHG.com. "This includes our favorite cookie recipes, from chocolate-peanut butter cookie sandwiches to chocolate-dipped cookies," she added.
Here are the recipes, tips and ideas rolled out today:
Dessert Recipes -- Discover dazzling spring dessert recipes, the magazine's best cupcake recipes, and 28 lucious chocolate desserts. Also look at the recipes for blissful brownies, including white chocolate brownies, cheesecake brownies, and black and white brownies. These super sweet endings will inspire new ways to make your favorites.
Baking Basics -- Before you begin baking, check out these helpful tips, ingredient information, and more. This includes: Baking 101, key ingredients, as well as storing breads and sweets. Also look for the cake baking tips for creating and storing these popular desserts.
Specialty Bakeware -- Some desserts require specific bakeware. You may need a fluted tube pan, springform pan, tart pan, or tube pan.
Chocolate Cookie Recipes -- Last but not least, are 20 luscious chocolate cookie recipies. From chocolate-peanut butter cookie sandwiches to chocolate-dipped cookies, these chocolaty cookies are proven crowd pleasers.
About BHG.com
Developed by the experts at Better Homes and Gardens, BHG.com is the premiere home and family site on the Web, and the interactive companion to Better Homes and Gardens magazine. BHG.com is for people interested in turning home, cooking, and gardening inspiration into action.
BHG.com is focused on decorating, building and remodeling, crafts, entertaining, cooking, and gardening. It also has extensive information for women and families. In addition to providing useful tools and advice, BHG.com's trusted experts keep visitors informed on the latest developments and trends around home and garden. BHG.com was designed with real people in mind. It has easy-to-use interactive tools, clear visuals, step-by-step instructions, and money-saving suggestions. It makes life easier and more enjoyable.
###