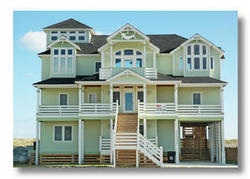 Danville, CA (PRWEB) April 16, 2009
NextWeekVacations is giving away one week in an oceanfront vacation home in order to promote its new marketplace focused on helping consumers find huge travel deals with last minute rentals. Different from existing vacation rental sites, NextWeekVacations.com only accepts last minute listings for rental dates that are typically less than 30 days away with discounts of at least 20-50% off.
Consumer are invited to register to win 7 nights in a 6 bedroom oceanfront beach house by going to http://www.nextweekvacations.com/vacation-giveaway.php. In an effort to highlight last minute vacations, this sweepstakes is for April 25th - May 2nd 2009. Consumer must register by April 20th and the winner will be notified by April 22nd. Contestants are also asked to sign up for travel alerts of last minute vacation deals available near them. Terms and Conditions are available on-line.
This six bedroom oceanfront vacation rental built goes for over $8,000 a week in the prime summer months. Often the shoulder seasons are more difficult to rent and NextWeekVacations.com can help book these vacation rentals and other last minute vacancies.
NextWeekVacations is leveraging an increasing trend in travel. Families are increasingly traveling more last minute, more local, and are demanding discounts. For consumers, these last minute deals on vacation rentals may be one of the few silver linings in this economy.
How it works:
Homeowners often advertise rentals with sites such as HomeAway.com or VRBO.com. When rentals go un-booked, owners lose valuable income. NextWeekVacations offers an efficient way to quickly liquidate upcoming rental dates without reducing the appeal of full priced rentals. The homeowner rents hard-to-fill last-minute vacancies and travelers' get a great deal on last-minute vacations. No longer do vacationers have to search through hundreds of listings to find both something that's available and discounted. It's right there for travelers at NextWeekVacations.com.
About NextWeekVacations.com
NextWeekVacations is founded by internet veterans who are also vacation homeowners. After managing their own vacation rental properties for several seasons in North Carolina's Outer Banks, they realized the biggest obstacle for rental owners is last minute discounting and vacancies of vacation rentals. The resulting recession spurred the team to create NextWeekVacations.com. The company is based in Danville and is privately funded.
Contact:
PR Manager
(415)-290-7273
http://nextweekvacations.com
###