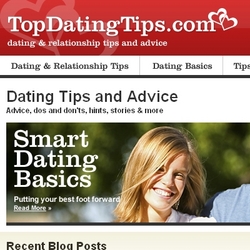 Austin, TX (PRWEB) April 16, 2009
Feeling down after meeting Uncle Sam's April 15 deadline? Some say the best way to beat the post-tax-day blues is to start focusing on dating and relationships. Declaring April 16 as International "Find a Date" Day, TopDatingTips.com launched an update of the one-stop resource for dating tips and advice today. A Top Dating Tips Blog has been added to the No. 1 resource for dating and relationship tips. The site has been expanded, with new articles and reviews of every leading online dating Website.
The biggest change to TopDatingTips.com is a regularly updated blog written by women and men who aren't afraid to tackle and discuss any relationship topic. There's nowhere better to turn for honest and unbiased discussion of the problems we all face in the dating game, from how to manage rejection to tips for facing the ultra-important discussion about cohabitating. The most recent posts cover strategies for Dating on a Dime, as well as an explanation of the real reason April 16 has been declared International "Find a Date Day." While paying the tax bill can be a downer, there's no better time to turn the positive energy used to get organized for taxes to one's dating and relationship efforts.
TopDatingTips.com also includes a robust series of articles about dating that are applicable to everyone - from people who are re-entering the dating world to those of us in relationships now and looking for fresh ideas and inspiration for dates with our mates. Articles are written for both men and women and cover topics ranging from personal appearance and dating "rules" to how to write a killer online profile. Few people are comfortable with their ability to flirt or be self-confident during the often-stressful first date. TopDatingTips.com has resources that will help anyone prepare to jump into the daunting dating pool.
Finally, for singles in search of assistance finding the best online dating Websites, TopDatingTips.com also features reviews of all the leading online dating services. Now there's no need for those entering this fast-growing market to rely on advice from friends about which service to choose, much less to disclose their personal information before they're comfortable doing so. TopDatingTips.com walks singles through how to pick the right service and makes sure they have access to the very best offers from each.
About TopDatingTips.com
TopDatingTips.com is the leading Web resource for dating tips and relationship advice. The site provides tips, views, advice and stories from others in the dating game as a resource for anyone looking for love or to enhance their relationship. Site bloggers and authors write from the heart, sharing their general views on dating and relationships in our modern world. TopDatingTips.com features articles and blog posts on contemporary dating topics, including essential rules for both sexes, tips for successful dating and inspiring thoughts to help singles get ahead in the dating game. TopDatingTips.com also features a section with reviews of the top dating Websites.
###