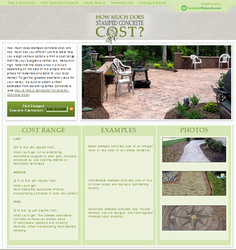 Yucaipa, CA (Vocus) April 17, 2009
As of recently, Stamped-Concrete-Cost.com has had an influx of web visitors searching for ideas on cost-effective ways to stamp concrete on a budget. The site's goal is to not only answer the question, "how much does stamped concrete cost?", but it also provides tips on how to get a beautiful floor and stay within whatever the desired budget may be.
Because of the economy's current state, consumers looking for affordable alternatives for floor remodeling projects are finding that stamped concrete has so much to offer. With stamped concrete, consumers are able to get the greatest aesthetic value for their money. Helping homeowners and business owners evaluate the potential costs of having a stamped concrete floor installed, the site offers a convenient table weighing various options within a cost range to fit every budget—low, medium or high.
While costs of each installation will vary depending on the size of the project, and local market material and labor prices, the site offers budget-friendly, cost-saving tips for finding a design that will fit a particular budget. Broken into three dollar ranges, the site covers costs for basic, intermediate and advanced techniques. The more intricate the design, the more a project can cost.
For those needing more information on stamped concrete, including photos, project profiles, color charts, stamp patterns and more, the website provides a list of resources to research and learn.
Stamped-Concrete-Cost.com is part of The Concrete Network family of websites. Read more about concrete.
Established in 1999, The Concrete Network's purpose is to educate consumers, builders, and contractors on popular decorative techniques and applications. These include stamped concrete, stained concrete floors, concrete countertops, polished concrete, and much more. In 2007 The Concrete Network Website had over 11 million visitors researching decorative concrete.
The site excels at connecting buyers with local contractors in their area through its Find a Concrete Contractor service. The service provides visitors with a list of decorative concrete contractors throughout the U.S. and Canada, and is fully searchable by 23 types of decorative concrete work and 202 regional areas throughout North America.
Photos courtesy of Solid Rock Concrete Services in Gravette, AR.
# # #