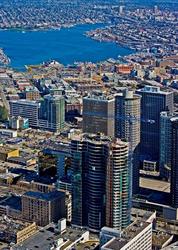 When we created our 'Center City Seattle' strategy, we envisioned a community that is livable, walkable, 24/7
Seattle, Wash. (PRWEB) April 16, 2009
You're the top, ESCALA! Now at full height, Seattle's signature condo tower project has set the stage for its "countdown to construction completion," scheduled for later this year. Rising 330 feet above downtown Seattle's shopping and gourmet dining attractions, ESCALA has set the bar for urban living with luxury homes and unprecedented amenities in an ideal location.
"When we created our 'Center City Seattle' strategy, we envisioned a community that is livable, walkable, 24/7," said Diane Sugimura, director of Seattle's Department of Planning and Development. "ESCALA is exactly what we're looking for in terms of Downtown Seattle."
While several new apartment and office towers continue to approach completion, downtown Seattle will not see another new condominium project after ESCALA opens for many years due to the challenging credit markets. Meanwhile, Seattle's Midtown--which already boasts a number of Seattle's most beloved restaurants--has never looked so good. ESCALA's development team selected the neighborhood for its central location between the vibrant nightlife of Belltown and the extensive shopping options of downtown's retail core.
When construction wraps up, ESCALA will offer 270 grand condominium homes and an exclusive 25,000-square-foot city club. Residences at ESCALA range in size from 909-square-foot, one-bedroom City Homes to three-bedroom Sky Villas at more than 3,000 square feet. Penthouses come with up to 16,000 square feet. All homes are adorned with expansive outdoor terraces, some with outdoor fireplaces and many feature private elevator vestibules-a first for Seattle. And Club Cielo, the first new private club to open in Seattle in more than two decades, will provide a sanctuary for homeowners, their guests and non-resident club members.
Now that the word is out about ESCALA's luxury, convenience and innovative design, the public is responding. Over 100 guests gathered recently to celebrate the Topping Out milestone with a champagne toast at Seattle's largest condominium presentation center, which features a 2,600-square-foot model unit complete with private elevator vestibule and 500-square-foot terrace. Meanwhile, atop Seattle's largest residential development a small group of buyers, project team members and other distinguished guests participated in the ceremonial final pour.
"In Seattle, there really is nothing like ESCALA," said John Midby, principal of Seattle-based LEXAS Companies, the developer of the $350-million ESCALA. "ESCALA will not only meet but exceed the expectations of those who want the downtown lifestyle with all the amenities of a luxury estate."
Thanks to ESCALA, there is no slowdown in Midtown's transformation. The project continues to redefine the character of a neighborhood with the city's most desirable location. For homeowners, the successful topping out means that they are one step closer to living in one of the most coveted addresses in the Puget Sound region. And, based on recent traffic at the sales center, a lot of buyers recognize the incredible opportunity that owning a home at ESCALA provides.
For more information, visit http://www.escalamidtown.com.
# # #