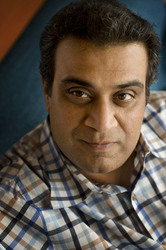 Clearly, cloud computing has hit a vein of need. What the industry now needs is to bring stronger propositions to their customers, to really show the benefits in practice. To support that outcome, my team brings you Structure 09. We want to channel the energy and drive of our audience and speakers into a live forum, so that between us so that we can catalyze the next steps.
San Francisco, Calif. (PRWEB) April 16, 2009
When it comes to cloud computing, the noise is increasing, and it's getting harder to pick out the real signals about where the industry is headed. Structure 09 is the filter. For its second annual event, Structure 09 brings out the industry's biggest influencers to help clarify and investigate the evolution of the cloud computing ecosystem.
"The last year has seen an incredible rise in the chatter around cloud computing," says Om Malik, Founder of The GigaOM Network. "Clearly, cloud computing has hit a vein of need. What the industry now needs is to bring stronger propositions to their customers, to really show the benefits in practice. To support that outcome, my team brings you Structure 09. We want to channel the energy and drive of our audience and speakers into a live forum, so that between us so that we can catalyze the next steps."
Structure 09 is the must-attend Cloud Computing conference of the year. Produced by leading cloud computing journalist Om Malik, Structure 09 offers a focused, single-day format -- programmed to make the most efficient use of your time. "We don't just talk about cloud computing once a year," says Malik "It's a part of our ongoing editorial coverage on GigaOM every day." Attend Structure 09 and be part of the conversation.
The second annual conference returns to the Mission Bay Conference Center in San Francisco on June 25, 2009. The day will be keynoted by two pioneers in the world of "infrastructure on demand" - Marc Benioff and Paul Sagan. Paul Sagan, CEO of Akamai, will share his vision about how Akamai continues to innovate in an industry it helped birth a decade ago. Marc Benioff, CEO of Salesforce.com, will share his insights that drove Salesforce.com to become the first SaaS (Software as a Service) company to pass the billion-dollar revenue mark. "I think Paul and Marc are leading the industry with bold ideas and products," says Malik. "Their successes are a testament to their leadership. They are perfect to lead the overall message at Structure 09."
A strong base of industry leaders and innovators supports the keynote speakers. Structure 09 is proud to have Michael Stonebraker, a pioneer of database (RDBMS) systems, participating and also welcomes luminaries such as Werner Vogels, CTO of Amazon.com, and Greg Papadopoulos, CTO of Sun Microsystems, back to share their thoughts on the progress of the industry since their keynote addresses at last year's sold-out event. In a unique panel, Jonathan Heiliger, VP of Technical Operations at Facebook, moderates a panel of his industry peers, who handle some of the biggest web infrastructures on the planet - Yahoo, Google, LinkedIn, and MySpace -- and asks them to share their learning and best practices from the industry's cutting edge.
Together, the speakers and audience will comprise experts from the critical topics in cloud computing and Internet infrastructure today: SaaS/PaaS, virtualization, next-generation data storage, cloud computing, broadband and operational issues rising from the adoption of cloud computing.
Schedule Of Topics Announced
We have just announced our programming schedule for Structure 09. Full details available here.

The Myth of the One-Size-Fits-All Cloud -- As enterprises begin to evaluate cloud computing, some are asking if the current model of commodity servers and virtualization meets their needs. Is there money to be made creating specialized clouds for industries that require highly specific computing tasks, from video trans-coding to fiscal transactions and medical records?
From Databases to Dataspaces -- Web-scale computing is creating a physically distributed infrastructure, which has led to the emergence of distributed data storage and processing layers like Hadoop, HyperTable and Couchdb. The new database paradigms will force us to rethink some of our existing practices, but they'll also offer many benefits and opportunities.
Better Broadband: Enabling the Cloud Era -- We're building huge Cloud Computing cities, but are we neglecting the already clogged broadband highways between them? As internal data center networking speeds start to exceed 40 Gbps, the pipes that connect those clouds to the outside world and each other will hit their limits. This panel examines what stress fractures we may see initially, what technology can do about it, and who will ultimately pay for it.
Toward Cloud Computing: Private Enterprise Clouds As A First Step -- Enterprises aren't yet able or ready to migrate their applications to public clouds. Public cloud infrastructure can't run existing enterprise applications without requiring a rewrite. Yet the lure of usage-based resourcing is strong. The solution? Build your own cloud with your existing infrastructure investment as a first step. This panel will contrast vendor visions about how internal systems can work in unison with external cloud platforms. A must attend for those looking to find solutions or opportunity in the migration path to cloud services.
On The Shoulders of Giants -- Innovation occurs when you push at the edge of reasonable practice. When your job is to manage some of the worlds largest infrastructures, with demands that test the limit of technology and budgets, innovation is your only option. Keepers of six of the largest collections of boxes, bits and bandwidth on the planet will share their successes with current technology and their desires for and opinions on the future.
Sponsors Bring Frontline Knowledge
An important ingredient in Structure's success is its sponsors, who help bring the event to the GigaOM audience, and bring knowledge and learning to the debate. "PEER 1 will join us again this year as the lead host for the conference," says Om Malik. "As one of the largest providers of Internet infrastructure to the world, they not only bring their generosity with them to Structure 09, but also their deep operational knowledge, which they will share in their workshop. We are also very proud to have some of the best names in the industry joining us as sponsors -- companies like Juniper Networks, Canaan Partners, Hewlett-Packard, AMD, Automattic, Savvis and Rightscale. They are perfectly aligned with the vision of Structure 09."
If you are looking to reach the buyers and influeners of next-generation Internet infrastructure, join us as a sponsor. Structure is the perfect opportunity to get your message across to a motivated and opportunity-hungry audience. For more details, please contact Mike Sly, VP of Sales, at sly @ gigaom.com
Purchase Early Bird Tickets By April 17
Tickets are selling fast and we expect a sold-out conference. Take advantage of the Early Bird price which saves $100 and ends April 17. Buy your ticket now!
About GigaOM
GigaOM is the premier destination site for technology industry insiders, movers and shakers, and early adopter consumers. It is widely considered the authoritative site for discovering what's new, relevant and interesting in the dynamic world of technology. From exclusive product launches to award-winning analysis and commentary, GigaOM's coverage influences business and technology sectors with its reliable, well-researched and professional reporting -- and its signature intelligence, candor and irreverence.
About The GigaOM Network
The GigaOM Network is a leading provider of publications and events for the technology and entrepreneurial markets worldwide. Founded by award-winning journalist Om Malik, The GigaOM Network is an online publishing company whose network of news sites reaches more than 2 million readers worldwide and provides news and insight on the developments disrupting the world of technology. The GigaOM Network includes seven award-winning sites: GigaOM covers the business of broadband, VoIP, infrastructure, mobile and wireless; WebWorkerDaily covers the future of work in a web world; NewTeeVee covers the business of online video; Earth2Tech covers the business of green technology; OStatic is a web application, news site and community looking at open-source solutions for business; jkOnTheRun offers news and insight on mobile devices; and TheAppleBlog is a leading source of information for Apple users. The GigaOM Network also produces industry-leading events, including annual conferences: Structure, Mobilize, NewTeeVee Live and Green:Net.
About PEER 1
PEER 1 is a leading provider of online IT hosting and one of the only companies to offer all three major hosting lines--Managed Hosting, Dedicated Hosting, through its ServerBeach brand, and Co-location--under one roof. Each of these solutions are backed by PEER 1's legendary SuperNetwork™, which spans 13,000 miles across North America and Europe. PEER 1's IT infrastructure strength provides the ideal platform for testing new technologies and greatly supports continued innovation in the market.
Contact
Joanne Wan
GigaOM
Phone (415) 830-5904
###