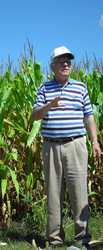 We are enthused to have these experienced individuals and dealers join the StollerUSA team
Houston, Texas (PRWEB) April 17, 2009
In response to the increasing demand for StollerUSA products, the team of sales representatives and dealers continues to grow.
Serving farmers in Minnesota, southern Wisconsin and north/central Illinois will be StollerUSA Sales Representative Darwin Lawson (608-553-4053). Scott Gooden (217-637-0880) is the new StollerUSA Sales Representative in the Missouri and southern Illinois territories. In North Dakota, South Dakota, Kansas, Colorado, and Nebraska, farmers and interested dealers can contact Larry Desaire (308-258-0885).
StollerUSA's ever-expanding preferred dealer network will provide farmers with the products and information needed to enhance yields and improve their overall crop performance. For a complete list of preferred dealers in your area, visit http://www.stollerusa.com/dealerlocator.
"We are enthused to have these experienced individuals and dealers join the StollerUSA team," said Dave Redmond, StollerUSA National Sales Manager. "As interest grows in Stoller technology and our line-up of yield enhancing products, farmers need to have quality local and regional representatives that can support their needs."
StollerUSA is dedicated to helping producers enhance yields by maximizing genetic expression. The result is enhanced marketable yield; improved return on investment, resistance to insects, nematodes and disease. Stoller products are proven to ensure optimum plant growth by maintaining appropriate hormone balance in combination with supporting nutrients, resulting in healthier, more productive crops that are better able to withstand stress and achieve their full genetic potential.
In agribusiness for more than 40 years, StollerUSA markets a full line of products to help farmers increase crop yield and quality. StollerUSA, headquartered in Houston, is actively researching and developing micronutrients and other products in more than 50 countries. For more information on StollerUSA, visit http://www.StollerUSA.com.
###