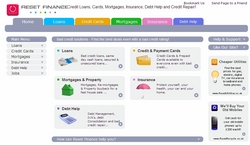 London, UK (PRWEB) April 18, 2009
In response to the deepening financial crisis in the UK, Reset Finance goes live, specializing in providing a range of financial services to people who find it difficult to get the credit they need. Whether that is due to a bad credit history, no previous credit history, mortgage arrears, CCJ's or bankruptcy, there are suitable solutions for everyone. Some of the products can even help to improve customers' credit rating or get a good proportion of their debt written off.
It can be extremely difficult for people with bad credit rating to be accepted for a credit advance, loan or mortgage in the conventional way. All financial products on Reset Finance's website are tailor made for people with money problems or a bad credit history, which means that acceptance rates are very high. Quite often there is no need for a credit check at all!
Thanks to the variety of carefully chosen deals suitable for those with credit problems, Reset Finance is able to save customers lot of time and hassle associated with searching for a right deal and it can help improve their credit rating with selected products too.
Options may seem limited when a bad credit rating is an issue, but there are solutions which some people may not have thought of. For example, when a bank refuses a loan for whatever reason, there is the option of getting a logbook loan which is secured against a customer's car or a payday loan, which is secured against their own salary or next pay cheque.
For more loan options please check out:
Having problems selling a property and desperately need a fast sale? Then the property buyback section may provide a solution with guaranteed house sale paid within 7 days.
If too many debts are a problem and bankruptcy seems to be the only way out, IVA's can be considered as an alternative in this predicament. An IVA could help deal with creditors, the people who are owed money, to negotiate clearing debts completely usually within 5 years!
For more debt help please visit:
Debt Mangement Help and Support
Reset Finance is a one stop shop for people with a bad credit history or those requiring non standard financial services. All products have been hand picked and researched to make sure they can help people with credit problems get the credit help they need easily when they really need it.
###