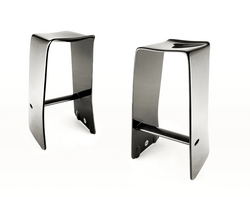 It's not just furniture
Los Angeles, CA (PRWEB) April 18, 2009 -
If you've ever flown private, you already know seats can be pricey. But this is another level altogether.
The seat in question is the $22,000 Carbon22 chair designed by Dario Antonioni, founder of Orange22 Design Lab in LA. That's right, $22,000 - not including shipping.
"It's not just furniture," says Antonioni, a trained aerospace engineer turned product designer with a love of flight and technology that infuses the shapes, colors and materials of his work. "It's art."
It better be.
The Carbon22 collection utilizes advanced technologies to sculpt blacker‐than‐black furniture - there's a desk, stool, end table and cocktail table in addition to the signature chair - from 100% carbon fiber.
While inspired by flight -- in a wind tunnel, each piece creates streaming, sensual flows of air -- the works do not come across as cliched "Jetsons" furniture. Instead, their fluid, harmonious lines and distinctive materials create the aspect of something entirely new and different.
Antonioni's sleek, unique pieces are coveted by purveyors and connoisseurs of high‐end design including Ralph Lauren, Henri Bendel, Ian Schrager, Edward Norton and many others. Antonioni has been designing custom one-offs for Hollywood's A-list for over a decade.
The much‐lauded designer -- who has been featured in GQ, InStyle, Metropolis and Wallpaper and has exhibited in New York, Paris, Milan and Cologne -- believes the power of his line is that it sprung from his innate passion and ideas, and "not in response to some market research. It was created entirely unfettered by the ordinary dictates of commerce and economics."
So how does one go about spending $22,000 for a piece of furniture? Contact the designers studio directly. And when you're ready to tell your significant other how much you're planning to spend on a chair, make sure he or she is sitting down.
For further information contact:
Claudia Gallardo
213-972-9922 ext 2
###