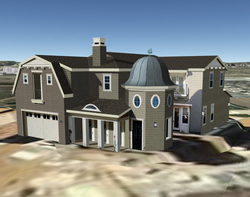 El Segundo, CA (PRWEB) April 17, 2009
In a ground-making move, CyberCity 3D, Inc. and Prudential California Realty's Cyber Advantage Referral Services have inked a deal for the first 3D property advertising program.
Prudential Realty's Cyber Advantage Referral Program connects Prudential and outside agents with relocating buyers in need of representation. Thanks to the CyberCity 3D/Cyber Advantage agreement, this system will now also support inquiries generated from 3D real estate posted on Google Earth™ through the Google Earth™ API.
Modeled by CyberCity 3D
The partnership gives Prudential's agents the ability to display residential properties in 3D nationwide through the power of CyberCity 3D. Visitors will see not only the property, but get a true feel for the neighborhood and its nearby schools, businesses, parks, and other amenities. The properties advertised will also include the CyberCity 3D/Cyber Advantage detailed metadata information on the listing, generating client referrals to selling/buying agents.
"During this downturn in the real estate industry, work continues to upgrade the consumer experience in the real estate search space," explains Prudential California Realty President and CyberCity 3D advisor Ed Krafchow. "CC3D represents a next generation experience for consumers. To be able to "fly over" an available home, see the context of that home, and be able to receive additional information is an exciting and "must have" type of technology. With this search capability, CyberCity 3D offers a dynamic platform that gives those in the real estate industry a new connectivity to consumers."
CyberCity 3D, a state-of-the-art, 3D geospatial modeling company located in El Segundo, CA, specializes in emerging Geo-Web solutions for the real estate, travel destination, government, and geographic information systems (GIS) industries.
###