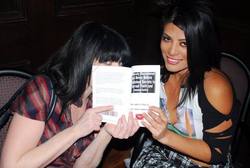 border control checkpoint into your dreams:
Santa Monica, CA (PRWEB) April 18, 2009
What if an out of work husband and his overworked wife started a talk show from their bedroom? The first episode was 7 minutes long with 2 people in the audience. 70 episodes later Duke Fightmaster of Laguna Niguel now has a fanatical local following that shows up each week to watch the next live show taping.
This week on Friday April 17, their special guest includes actress / philanthropist Veronica Grey, who is discussing her final published work, "The Giggle Crack," and the most recent film in which she co-stars, "Checkpoint DreamYourTopia," - a Burning Man 2008 Documentary featuring today's most eminent Dutch artist - Dadara, motocross firebrand Von Launius, VJ Doran "Dada" McGee, and their "border control checkpoint into your dreams:" Checkpoint DreamYourTopia Trailer
The theme of Burning Man 2008 was the American Dream and the Duke Fightmaster show is exactly that: a story of one man's journey to recapture his soul that was taken by the modern day rat race. What happens when someone follows their passion with complete abandon? That is the essence of the Duke Fightmaster Show.
At first his wife, Lesley Fightmaster, was upset with Duke "not working;" but he has since been able to calm her down by making her his sidekick. It helps that she has a great voice as she sings every other show.
"Ryan" is billed as Duke's "Right-hand man" as they delight their growing following with pseudo- commercials and real guests, such as KC from the Howard Stern show, an icon Duke Fightmaster emulates.
The show is taped in front of a live audience on Friday nights in Laguna Niguel, CA, and is posted on their website Duke Fightmaster Show the following week, usually Tuesday. Their hilarious You-Tube channel calls out Conan O'Brien ~ Bring it: It is time for Late Night to "Duke It Out!"
###