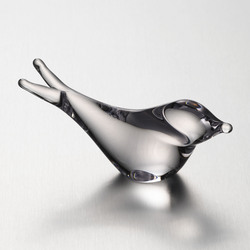 Windsor, VT (Vocus) April 17, 2009
Simon Pearce is pleased to announce its support of the Vermont Institute of Natural Science's (VINS) 31st Annual VINS Birdathon.
As Birdathon sponsors, between April 20 and May 22, the Simon Pearce retail stores in Hanover, NH, Windsor, VT, and Quechee, VT, will donate 100% of profits from the sales of their hand blown glass bird paperweights.
Simon Pearce also donated a one-of-a-kind birdhouse sculpture to be awarded to the most accomplished Birdathon participants. The sculpture symbolizes the company's philosophy of recycling and reuse and of supporting the arts and environmental projects. The birdhouses are made from wooden molds used by Simon Pearce master glassblowers to create original Simon Pearce hand blown glass designs.
Birdathon is the world's largest bird-watching competition and a fun way to support VINS' mission to motivate individuals and communities to care for the environment through education, research and avian wildlife rehabilitation. Registration for Birdathon begins April 20, and those who register before May 9 will be entered in a raffle to receive a free VINS partner-level membership.
For more information about VINS' Birdathon and to download a registration packet, visit http://www.vinsweb.org or call 802-359-5000.
About Simon Pearce:
Simon Pearce designs, manufactures and markets original products in hand blown glass and handmade pottery and operates two fine dining establishments. Founded in 1971, Simon Pearce originated as a small glassblowing workshop in Kilkenny, Ireland. Simon Pearce has maintained a dedication to creating products that are beautifully designed, produced with premium quality materials and time-honored techniques and intended for a lifetime of everyday use. In 1981, the company moved to a historic woolen mill on the banks of the Ottauquechee River in Quechee, Vermont. Today, Quechee remains the flagship for Simon Pearce's retail, restaurant and production activities. The full range of glass and pottery designs embodies traditional and contemporary styles—all with classic simplicity, elegance and everyday functionality. The line is available at 10 Simon Pearce retail stores, through a nationwide network of signature stores, via mail-order catalogue and online at SimonPearce.com.
About the Vermont Institute of Natural Science:
Founded in 1972, the Vermont Institute of Natural Science (VINS) is a non-profit, member-supported environmental education, research and avian rehabilitation organization headquartered in Quechee, Vermont. VINS' mission is to motivate individuals and communities to care for the environment with a priority placed on making high-quality, compelling and fun environmental education programs and learning opportunities accessible to more people and communities.
# # #