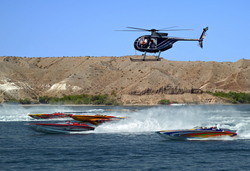 Desert Storm brings the top of the line boats from all over the country to one place to join with each other in showing the newest and best technologies, the newest and best boats, trucks, tow vehicles, support vehicles and fun toys of all sorts. And it's one of the few places you can get up close to the boats and touch them and then watch them go out in front of you
Lake Havasu City (Vocus) April 17, 2009
The lakefront community on Arizona's western border is preparing for a desert storm coming this April.
The 11th Annual Desert Storm Poker Run is set to take place April 23 and 24, with the second annual Pacific Offshore Powerboat Racing Association's Gran Prix taking place Sunday, April 25. "If you're a fan of big, fast boats, then this is the weekend you need to come to Lake Havasu City," said Char Beltran, president and CEO of the Lake Havasu City Convention and Visitors Bureau. "These boats are literally one of a kind, and to get the chance to see them in person is quite the memorable experience," she said.
Jim Nichols with Lake Racer LLC, producer of the event, said it's a virtual "who's who" in the performance boating world. "Desert Storm brings the top of the line boats from all over the country to one place to join with each other in showing the newest and best technologies, the newest and best boats, trucks, tow vehicles, support vehicles and fun toys of all sorts. And it's one of the few places you can get up close to the boats and touch them and then watch them go out in front of you," he said.
Nichols added that Lake Havasu is the perfect venue for the event. "For performance boating it probably is one of the friendliest and well known places to come. In our desert climate and in the west, it's the only lake that has hotels on the water," he said. "To have this size of body of water with all the amenities Lake Havasu has makes it a premier boating destination."
The event kicks off with the Desert Storm on Mainstreet Boat Display. Over 100 boats, many of which worth well over $1 million, will be on display from 5 to 9 pm Thursday, April 23 on McCulloch Boulevard between Smoketree and Acoma Boulevards.
Saturday the show takes to the water as the boats will be flying down the lake. "See the biggest names in offshore performance boating in one spot," Nichols said.
On Sunday the Pacific Offshore Powerboat Racing Association takes over with their part of the show, which POPRA President Kevin Cooper categorizes as one of a kind. "They're racing, they're poker running, they're trying to achieve top speeds at the 200 mph mark. It's a cross between NASCAR, Bonneville and a boat show wrapped up in one big package," he said.
Many of the POPRA race boats will also be on the Mainstreet Boat Show Thursday, something Cooper said is just as important to the racers as is the fans. "You get to touch all the boats, that's the coolest thing. IN NASCAR you can't, the cars are all hidden away. We like the spectators to be a part of it," he said.
For more information on the events, visit Golakehavasu.com.
###