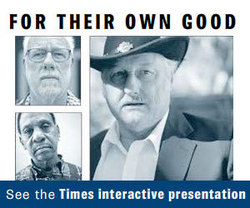 St. Petersburg, FL (PRWEB) April 17, 2009
They were screwed-up kids, sent to the reform school in Marianna for smoking, fighting, stealing cars - or worse. The Florida School for Boys http://tampabay.com/features/magazine/- that'd straighten them out.
Fifty years later they are, by their own account, screwed-up men - afraid of the dark, unable to love or be loved, twisted by anger, scarred by the whippings they endured in a cinder block hell called the "White House."
They have joined together, these broken men, to testify to what their keepers did to them in the name of the state. They want compensation. But mostly they want an end to the pain.
In a special report that appears online April 17 at magazine.tampabay.com and in print April 19, Times writers Ben Montgomery and Waveney Ann Moore and photographer Edmund D. Fountain take you inside the rank hallways of the "White House," where boys once bit down on pillows and braced themselves for the lash.
How could this happen? What should be done? Those are questions that have been asked again and again about the reform school, where boys went in troubled and came out destroyed.
About the St. Petersburg Times and TampaBay.com
The St. Petersburg Times is Florida's largest newspaper with an average circulation of 390,289 Sunday and 268,935 daily (ABC publisher's statement 9/30/08). Considered one of the top ten newspapers in the country, the newspaper has six Pulitzer Prizes to its name.
TampaBay.com is Tampa Bay's largest local news Web site, with a combined local and national audience of 1.6 million unique visitors each month (Nielsen//NetRatings average for 4/08-9/08).
###