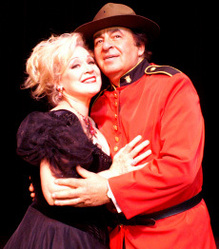 Neill's stunningly beautiful voice is pure, free and silvery even at its very top.
New York, NY (PRWEB) April 17, 2009
Jeanette MacDonald and Nelson Eddy were the most successful crossover stars from opera to Hollywood. They had one smash hit after the next, including "Naughty Marietta" (1935), "Rose Marie" (1936) and the top grossing film internationally of 1937, "Maytime". But the great Hollywood cover-up was that off-screen, they had a 30-year affair while supposedly happily married to other people. Sexual betrayals, suicide attempts, blackmail and death threats are the stuff of "A Scandalous Affair."
Laced with humor and shocking revelations, the love story unfolds as narrated by character Hedda Hopper with a spectacular mix of music by Cole Porter, Noel Coward, Rodgers and Hart, Romberg, Herbert, Verdi and Giordano. The show includes references to Clark Gable, L.B. Mayer and others that interacted in the MacDonald-Eddy story.
Opera singers with a gift for comedy - Hallie Neill ("a rapturous singing actress" The New York Times) appears as Jeanette. Former Metropolitan Opera baritone Theodore Lambrinos ("a thrilling voice", Opera News) is Nelson. Conductor Raymond Hughes, former Metropolitan Opera Chorus Master, is the pianist. Patricia Bartlett appears as Hedda Hopper and the production is directed by Albert Bergeret.
"A Scandalous Affair" ©2006 was written and conceived by Hallie Neill and inspired by the best-seller Sweethearts by noted author Sharon Rich, ©2001. Rich was close friends with MacDonald's older sister Blossom Rock and interviewed over 200 friends, family, co-stars and lovers of MacDonald and/or Eddy. She had access to hundreds of private love letters, diary entries and the unpublished memoirs of both Jeanette MacDonald and Nelson Eddy's mother.
The CD release of "A Scandalous Affair" was featured on the 50th Annual Grammy® Awards first ballot in the category of Best Musical Show Album.
Meet the author of Sweethearts, Sharon Rich, and the artists following the performance.
Reviews
"The Original American Idols!" When today's popular culture follows the trials and travails of Britney and K-Fed, it is indeed refreshing to revisit the music and popularity of such giants of the silver screen as MacDonald and Eddy. "A Scandalous Affair" captures the essence of the two stars - chemistry, quality music and genuine talent! Neill with her warm, clarion soprano and Lambrinos with his rich and powerful baritone. A refreshing and delightful show. -- The Times Picayune Review
"Neill's stunningly beautiful voice is pure, free and silvery even at its very top." -- Trenton Times
"Lambrinos gave a gripping performance that brought down the house. He is the Metropolitan Opera's A-Team." New Jersey Star Ledger
For more information: http://www.jeanetteandnelson.com
Read Chapter One of "Sweethearts" online.
Single Tickets: $40, 35, 20. Students/Seniors: $20 (For discounted tickets, contact the box office at 212-501-3330) Tickets are available online at the Merkin Concert Hall Box Office. Special senior or student tickets for "A Scandalous Affair" are only available from the box office, 212-501-3330, not online. The box office is open on Friday, April 17, from noon to 4 pm. It is next open on Sunday, April 19. Either call the box office during those hours or purchase tickets at Merkin Concert Hall prior to the performance, at 129 W 67th St, Manhattan.
# # #